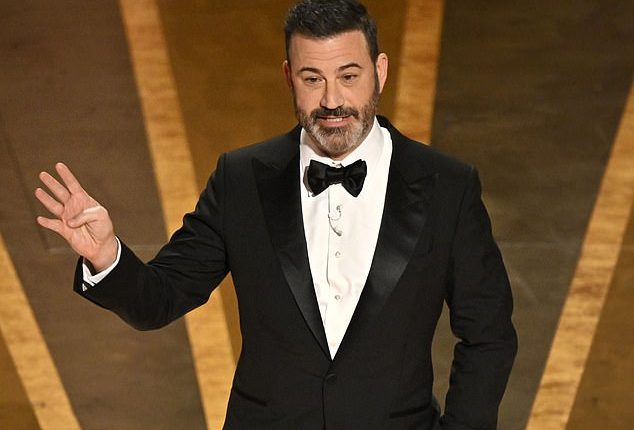 Jimmy Kimmel sparked laughter at the Oscars last night when he referenced one of the blockbuster weight loss drugs that has taken Hollywood by storm.
The TV host told the crowd: 'Everybody looks so great. When I look around this room, I can't help but wonder, "Is Ozempic right for me?".'
Ozempic and Wegovy have surged in popularity after becoming the first drugs proven to aid weight-loss.
Celebrities including Elon Musk and Remi Bader have revealed they used the drug to help trim fat. Many other famous faces who have looked svelte recently are rumored to have used them. 
No holds barred! Jimmy Kimmel took aim at Will Smith's infamous Oscars slap in his hilarious opening monologue at the 2023 ceremony on Sunday
The drugs act like a hormone in the brain which causes people to feel less hungry and slow the clearing of food from the stomach — spurring weight loss.
Below is the list of celebrities who have tried the drug… and those who claimed they have not:
Celebrities who have used the drug:
Chelsea Handler pictured arriving at the Vanity Fair Oscars Party in 2020
Chelsea Handler
The comedian has revealed she was prescribed Ozempic to help combat aging — but didn't even realize she was on it.
The 47-year-old said she shed a few pounds on the drug but stopped using it after she realized it was Ozempic — saying it should be left for diabetes patients.
The drug was initially developed for diabetics but trials showed it caused the additional benefit of blocking hunger.
Ozempic is a weakened version of Wegovy, which was purpose-built for obesity. 
Speaking on the podcast Call Her Daddy, Handler said: 'So, my anti-aging doctor just hands it out ot anybody.
'I didn't even know I was on it. She said, "If you ever want to drop five pounds, this is good.'
She only found out while at lunch with a friend shortly after returning from a vacation to Spain last year.
Her friend told her that she wasn't really eating anything and felt nauseous because she was on Ozempic. Handler responded that she also felt nauseous, but that it was probably down to her jetlag.
When she said she was injecting herself with semaglutide her friend explained: 'That's Ozempic!'
Handler said: 'I'm not on it anymore. That's too irresponsible.
'I've injected about four or five of my friends with Ozempic because I realized I didn't want to use it 'cause it's silly. It's for heavy people.'
Elon Musk has also used Ozempic. He's pictured above attending the Vanity Fair Oscars party in 2020
Elon Musk
One of the world's richest men said Ozempic made him 'fit, ripped and healthy'.
Elon Musk said he lost almost 30lbs (13.6kg) while taking the drug.
He revealed that he was using it in October last year when a fan asked what the secret was to his new slimmed-down appearance.
'Fasting', Musk, 51, replied before adding: 'And Wegovy'.
He has also said his transformation was down to: 'Fasting + Ozempic/Wegovy + no tasty food for me.'  
He said his weight-loss journey was prompted after seeing unflattering images of himself on a yacht.
The 51-year-old's weight loss formula prompted admiration from fans.
He also admitted to suffering a side effect from the drug. A Twitter user asked: 'Does it give you those nasty burps? Taste like rotten eggs lol ugh.'
He replied: 'Yeah, next-level.'
Remi Bader pictured last night attending the Oscars in Los Angeles, California
Remi Bader
Plus-size model and TikTok star Remi Bader also revealed that she used Ozempic.
The 27-year-old was prescribed the drug when she became pre-diabetic. 
She lost some weight on the drug but said that when she came off it she regained twice the weight that she had lost.
'I was like, "I bet the second I go off I'm going to get starving again",' she told the Not Skinny but Not Fat podcast in January.
'And I did. My bingeing got so much worse, so then I kind of blame Ozempic. I gained double the weight back after'.
She went to see a doctor about all the weight she'd put back on and was told that it was '100 percent because you went on Ozempic'.
She says she is now 'annoyed' that the drug has become a trend because it is meant to be reserved for people with diabetes.
Celebs rumored NOT to have used the shot
Khloe Kardashian said she doesn't use Ozempic (Pictured at the Oscars in 2014)
Khloe and Kim Kardashian 
In January, Khloe shared an image of herself on the cover of lifestyle magazine Sorbet.
It quickly prompted a response from a social media user, however, saying: 'The fact she uses dibetic [sic] medication to get this skinny is disturbing.'
After reading the comment, Khloe was quick to crack down on the suggestion.
She responded: 'Let's not discredit my years of working out.
'I get up five days a week at 6am to train. Please stop with your assumptions. I guess new year still means mean people.'
Her sister Kim Kardashian has also faced claims that she used Ozempic.
In May, the reality TV star revealed that she lost 16lbs (7kg) in three weeks so that she would be able to slip into a dress that belonged to Marilyn Monroe.
She has never commented on the accusations, although they continue to surface on social media.
Kyle Richards pictured at the Oscars last night 
Kyle Richards
Real Housewives of Beverly Hills star Kyle Richards has also denied that she was on the weight loss drug Ozempic.
The celebrity faced the claims after posting a photo of herself in workout clothes in January this year.
She responded to one commentator: 'Do not spread lies. I'm not on Ozempic.'
Asked about the claims during an interview in February, she said: 'I cannot stand people saying that because people know me know that I'm up every day at like five, six am at the latest… I'm in the gym for two hours.
'I really put a lot of effort into my diet and exercise and taking care of myself, so when people like to think I took the easy way out, it's frustrating.'
She also hit out at the claims about a week ago, telling People: 'I didn't even know about Ozempic until I'd already lost all the weight I wanted to lose.
'I started losing weight eight months ago, actually, because I stopped drinking alcohol eight months ago.'
She added: 'It wasn't any diet drug ever, never touched it. So it really just frustrated me because I'm working out really hard.' 
Rosie O'Donnell is pictured above. She said that she hasn't used Ozempic
Rosie O'Donnell
The comedian revealed she had lost 10lbs (4.5kg) in about three weeks, prompting claims she was on Ozempic.
But the 60-year-old who also has diabetes was quick to strike back, saying she had actually used a drug called Mounjaro.
This is a weight loss medication similar to Ozempic but uses the drug tirzepatide to target two hunger hormones instead of one.
Studies have shown no significant difference in the amount lost by people depending on which trial they are on.
Speaking about the drug, she said: 'I'd say it feels like freedom. Freedom from intrusive thoughts about food, about what you're eating.
'I think it's fantastic.'
O'Donnell also got more exercise and cut back on sugars and artificial sweeteners to help with weight loss.
She also kicked her habit of drinking five Diet Cokes a day, instead opting for water. 


Post source: Daily mail