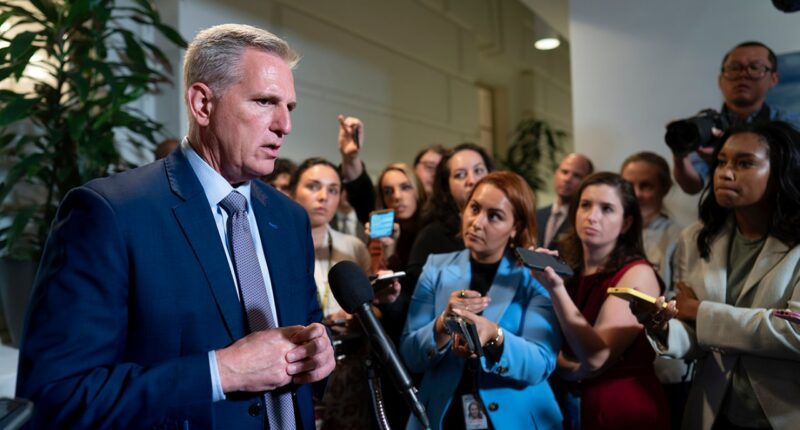 The White House on Wednesday outlined the potential ramifications of a government shutdown, as divisions among House Republicans have raised the possibility of a shutdown at the end of the month.
The White House accused House Republicans of putting the nation at risk of a shutdown "that would undermine our economy and national security, create needless uncertainty for families and businesses, and have damaging consequences across the country."
In a memo shared with reporters, the administration outlined a series of consequences that could affect Americans if the government shuts down.
The White House said FEMA's Disaster Relief Fund would risk being depleted without a funding bill, complicating emergency response efforts.
A government shut down would stall research on cancer, the White House said, and delay food inspections conducted by the Food and Drug Administration (FDA).
The Transportation Security Administration and air traffic controllers would have to work without pay, potentially causing travel delays. 
A shutdown would also limit the ability of the Small Business Administration to conduct its work, potentially harming small businesses, the White House said.
And Environmental Protection Agency (EPA) reviews could be delayed, which would in turn delay ongoing infrastructure projects.
"These consequences are real and avoidable—but only if House Republicans stop playing political games with peoples' lives and catering to the ideological demands of their most extreme, far-right members," the White House said. "It's time for House Republicans to abide by the bipartisan budget agreement that the majority of them voted for, keep the government open, and address other urgent needs for the American people"
House GOP leadership on Tuesday had to pull a procedural vote on a proposed short-term funding stopgap after it elicited opposition from hard-line conservatives. 
Hours later, hard-line conservatives in the House sank a procedural vote on a Pentagon funding bill in a significant setback for Speaker Kevin McCarthy (R-Calif.).
The House has less than two weeks to extend government funding past Sept. 30 or risk a shutdown.
Meanwhile, Senate GOP Leader Mitch McConnell (Ky.) on Tuesday warned fellow Republicans to avoid brinksmanship that could result in a government shutdown, warning that shutdowns are always "a loser for Republicans."
The White House has called on Republicans in Congress to pass funding bills under terms agreed to during negotiations in May that led to an increase in the debt ceiling.
Copyright 2023 Nexstar Media Inc. All rights reserved. This material may not be published, broadcast, rewritten, or redistributed.