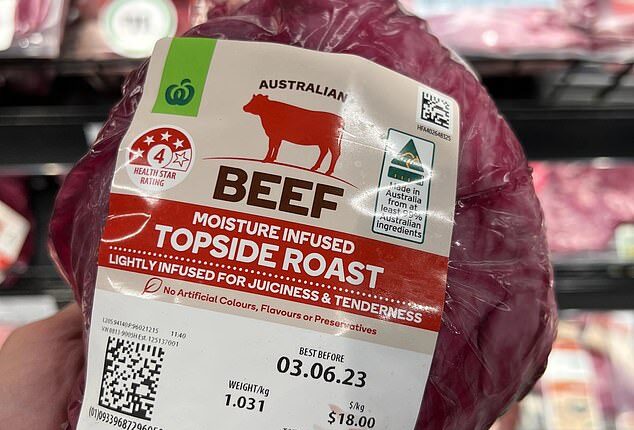 Woolworths customers feel 'cheated' by little-known detail on popular beef buy
Woolworths customer upset by 'moisture infused' meat buy
Meat is brined for an added juiciness and tenderness 
A shopper was furious after spotting an easy-to-miss detail on his favourite supermarket food buy. 
The Woolworths customer recently sparked debate after revealing that the supermarket chain's popular Beef Topside Roast was 'moisture infused'.
The label explained that the meat had been 'lightly infused for juiciness and tenderness'.
However, the foodie was immediately distraught at the sight after spending $18/kg.
'Woolies now proudly displaying that they fill their beef with water,' the man said. 'They're really taking us for idiots at this point.'
A shopper was furious after spotting an easy-to-miss detail on his favourite supermarket buy
He posted a photo of the beef on Reddit, which caused many meat lovers to clash over 'infused' foods. 
Some customers accused the supermarket chain of bulking up the meat using salt water in order to inflate its price.
'My main concern is paying meat prices for water/brine,' a shopper said. 'I would hope that's taken into account with the pricing.'
'It's fraudulent if it's injected with more salt water or similar liquids than necessary for storage because it's to increase the weight and get more profit,' another said.
A few customers shared bad experiences with similar 'moisture-infused' meat. 
'I bought chicken thighs from the Woolies deli and it was so awful and watery,' a man recalled. 'I suspect it had been frozen at some point – I have never had chicken quite so bad from the packaged section.'
Another said: 'Moisture infused my a**, more like water injected. About 30 per cent of the weight will be water. Just like their chicken breast.'
What is 'brining' meat? 
In food processing, brining is treating meat with brine or coarse salt in order to preserve and season the food while enhancing tenderness and flavour.
It is typical to use herbs, spices, sugar, caramel, and vinegar during brining.
The process is usually done for 24 hours and is similar to 'pickling' fruit and vegetables.
Brining is also comparable to marination, but it does not include a significant amount of acid, such as citrus juice.
Poultry breasts, pork chops, shrimp, and turkey are commonly brined.
But others defended butchers and claimed brining meat was a common practice.
'I work at a pork processing plant, and there are a handful of products that get set aside for moisture infusion,' a professional revealed. 
'It's the same mix they use for making bacon, ham, and cooked sausages like Frankfurts, Viennas, and Cabanossi,' another said.
'And even cured meats like salami and prosciutto/serrano. Only difference is you're seeing it before it's cooked here,' the meat lover further explained.
Another noted: 'Injecting meat with brine makes it moist and tasty. It's a traditional barbecue/smoking technique.'
A Woolworths spokesperson revealed that beef topside roasts taste great when cooked correctly, but they can dry out if you're not careful.
'This roast is infused with a small amount of brine to help make them a bit easier for the homecook to perfect.
'The range was developed by our in-house chefs, and customer feedback about the quality of the product has been positive to date.
'We understand the range may not appeal to everyone, so we continue to stock traditional beef roasts in our stores as well,' they told FEMAIL.


Post source: Daily mail