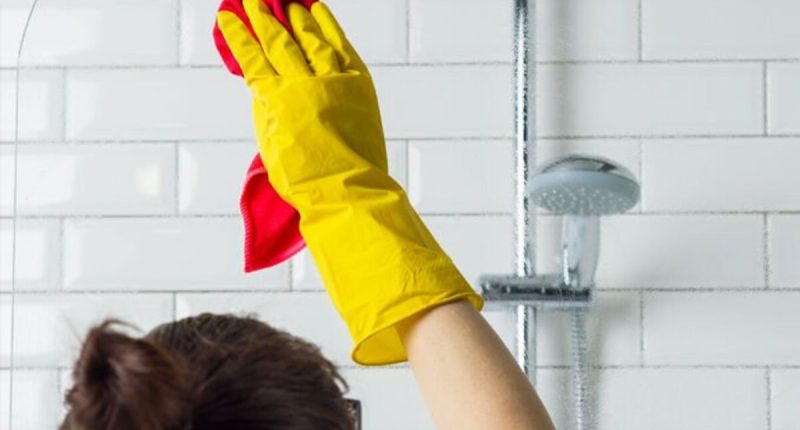 The mother and cleaning enthusiast showed how she makes her home clean and gleaming by posting helpful tips on social media. Val who runs My Dose of Home has 74.8K followers on her TikTok account @mydoseofhome and also posts to her Instagram account. 
The cleaning and organisation fan took to her accounts to show followers how to thoroughly clean their showers. She uses three products and a sponge for the weekly cleaning routine.
Val mixes Palmolive Ultra Dish Liquid in a bucket with warm water, creating a nice foaming mixture. She puts this to one side before she reaches for her Lysol spray.
Then she sprays Lysol on the grout and sealant running along the bottom walls of her shower, focusing on the areas with the most yellow and brown discoloring.
Val opts for the Lysol Power Bathroom Cleaner Trigger, which "Disinfects & kills 99.9% of bathroom viruses & bacteria" and "removes mold & mildew stains." 
Next up the cleaner sprays the Oxi Clean Foam-Tastic all over the shower surfaces, the walls, shelves, and tiles.
READ MORE: 'Comes up like new': 'Best' way to clean oven racks without 'scrubbing'
The cleaner told her followers she performs this thorough clean in her shower weekly. The video has had a huge 3.2M views and 140K "likes".
One commenter was impressed with how the routine tackled discolored build-up and asked: "What is that Lysol made of that removed those yellow spots on the sides of the wall?" Val replied: "Idk haha but it works wonders!"
In fact, the product's active ingredient is citric acid, mixed with water, as well as glycolic acid and sodium laurel sulfate. Citric acid is found naturally in citrus fruit, especially lemons.
It's great at killing bacteria, mold, mildew, and disinfecting areas. Most importantly for cleaning the shower it's excellent at eradicating limescale, soap scum, and rust.
Fans also went wild for the extendable bucket the cleaner is using. One wrote: "Why was I immediately influenced to buy that bucket?" Val responded: "It's a game-changer!"
The bucket is the SAMMART 12L Collapsible Rectangular Handy Bucket, and it costs just $15. It comes in various colors, from blue, pink, and white, and is "perfect for cleaning, especially cleaning windows with squeegees."
The bucket has had 860 ratings in total on Amazon, 71 percent of which have been five star.
How to make a natural shower cleaner
A shower cleaner can be made easily at home with just some items from the grocery. Combining lemon and baking soda creates a powerful, cheap cleaner.
Just follow these steps:
Cut a lemon into two halves
Fill a bowl with a few tablespoons of baking soda
Take your lemon half and dip it into the baking soda, giving it a little squeeze until the baking soda fizzes
Take your lemon half with the baking soda and scrub, flesh down onto the tiles and glass
Dip, squeeze, scrub and repeat as often as neccessary




Post source: Express