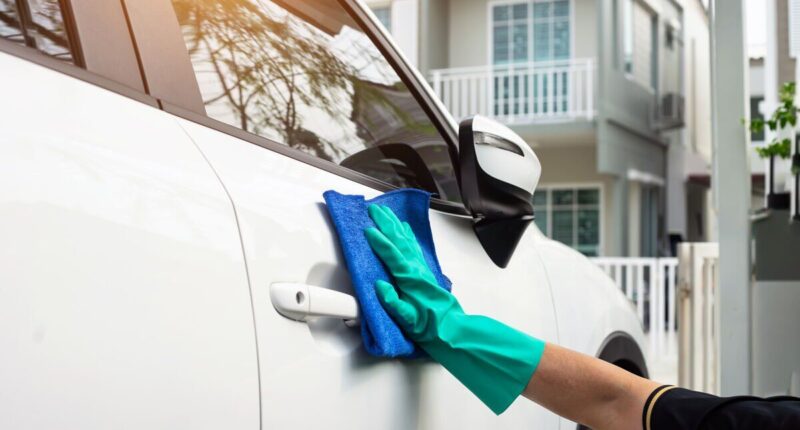 Drivers have been warned that a basic social media and TikTok tip could "damage" cars in a major new warning.
Sal Patel, motoring expert at Finest Car Mats, claims using nail varnish remover on car scratches could "eat through" paintwork.
Several tipsters have uploaded clips of them rubbing the homemade solution into their bodywork with the scratches gone within seconds.
Some motorists even apply pure nail varnish to their cars in a bid to colour in obvious dents.
But, Mr Patel warns drivers should not use the solution at home "under any circumstances" as it contains acetone.
He stressed the homemade solution can cause "more damage" to a car which could lead to costly repairs in the long run.
The expert explained: "Many social media users for some reason recommend using acetone for fixing car scratches.
"Acetone is a liquid that most of us know from being in nail varnish removers and you should not be using it on your car in any circumstance.
"Acetone if left will eat through your paint job and can cause damage to any plastic it comes in contact with.
"While professionals can use acetone to remove stubborn stains, you shouldn't be doing this at home.
"While taking your car to the garage to be repaired can be expensive, overall it will be cheaper than using one of these hacks, causing more damage to your car and having to fix that too."
According to CheckATrade, the average cost to repair a deep scratch on a car is around £300.
However, Lease Fetcher says prices are likely to vary between £150 and £250 across the UK.
Experts at Vehicle Freak have also suggested that acetone will "100 percent" ruin car paint if left on the vehicle.
They suggested the solution would soften the paintwork and cause a reaction that would ultimately "bubble and peel away" the bodywork.
Meanwhile, Toyota UK also warned drivers against using nail varnish in a desperate attempt to clear away marks
They commented: "The colour will never match the surrounding paintwork and it will therefore remain an eyesore, while the nitrocellulose formula of nail polish is not long-lasting compared to automotive two-pack paint applied in a professional spray booth.
"If you still feel the need to apply a temporary DIY fix, please use a genuine touch-up paint that matches your vehicle's paint code."


Post source: Express