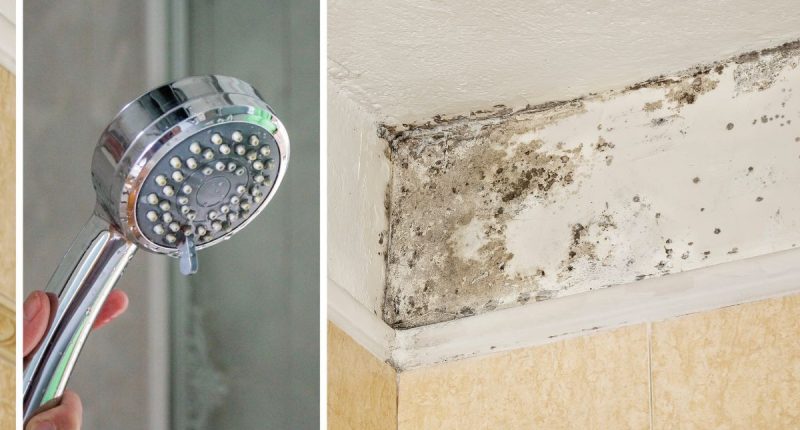 Bathroom specialists at Big Bathroom Shop found over 73 percent of homeowners currently have mould build-up in their bathrooms and identified condensation as one of the leading causes. Condensation forms when moisture is released into the air and mixes with water vapour. Once this makes contact with cold surfaces, the droplets often form on areas like mirrors and windows.
To help reduce the risk of mould growing as a result of moisture, bathroom ventilation expert, Rikki Fothergill at Big Bathroom Shop, has shared the "best" ways to prevent bathroom condensation and eliminate mould.
1. Open a window
Opening windows is one of the simplest ways to reduce condensation in the bathroom.
Rikki said: "Although opening a window may not be high on the agenda during a cold winter's morning shower, it's an easy way to help excess moisture and steam escape rather than clinging to the water vapour and landing on surfaces around the room."
This can be hard if you have an internal bathroom, which is why the next best option would be to use an extractor fan.
READ MORE: Common houseplants 'highly toxic' to pets – alternative plants to grow
3. Underfloor heating
Cold surfaces such as ceramic floor tiles will also attract condensation, meaning the floor can become slippery.
Rikki suggested: "Investing in underfloor heating is a great long-term solution when it comes to tackling bathroom condensation and as a bonus, it is likely to add some value to your home as well."
However, this may not be the best option for many due to rising energy bills and the cost of living crisis impacting households.
4. Ensure windows are double glazed
In older properties, double glazed windows may not always be fitted, so it is important to make sure they are double glazed to reduce condensation.
READ MORE: 'Avoid' tap water to hydrate 'sensitive' peace lilies – what to use
The expert added: "Double glazing helps retain much more heat than single glazing which will warm up those colder surfaces that are likely to attract condensation. 
"Fitting double glazed windows is another long-term solution that will add value to a home too."
5. Wipe down surfaces afterwards
Rikki continued: "Always remember to wipe down any surface that has acquired condensation before leaving the extractor on or windows open to air out the room. Use a dry towel to soak up as much moisture as possible.
"I would recommend regularly checking walls, fixtures and fittings for mould throughout the colder months and acting fast if you notice any black spots to ensure that the problem doesn't get any worse."
Condensation can also accumulate on windows in the bedroom or on windows and doors of the conservatory.
If it does begin to build in the conservatory, it is important to make sure blinds and curtains allow for airflow.
For very moist areas, Britons should consider investing in a dehumidifier, which helps to draw moisture from the air. 
Keeping the home ventilated can also help to prevent the issue. This means opening windows for around five to 10 minutes per day could help.




Post source: Express