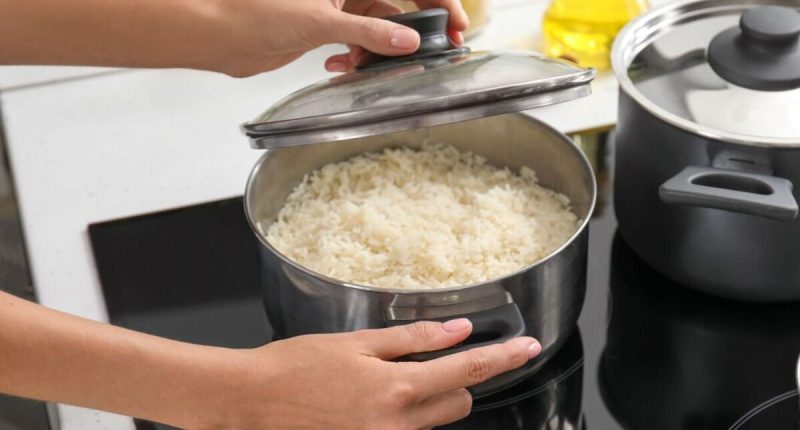 There's great controversy over how rice is to be cooked; some boil and boil then drain the excess water, while others prefer to add limited water and top the saucepan with a lid so it steams. According to one TikTok creator, we should be using the oven to make perfect, fluffy rice.
Maj, also known as @mywanderinghome said she "makes rice a controversial way but it turns out perfect every time".
She captioned the video: "This one had insta TRIGGERED. To be totally honest, the reason why I started doing this was because when we moved the house came with an induction cooker and I hardly have any pans that work on the stove so I had to get creative for when I had used up all of my pans that worked.
"The way I was shocked by how easy it was to just bang it in the oven and forget about it and have perfectly fluffy rice in 25 mins."
She admitted she used to use a rice cooker, but it broke, so now makes rice in the ove
READ MORE: Game-changing method to poach eggs without a saucepan
The video has been liked by 42k people and hundreds of comments have been left.
One wrote: "I have never seen it made like this omg," Maj replied: "It's essentially the same thing a rice cooker does, trapping in the steam and surrounding the rice with heat!"
Danielle added: "This is how my grandma taught me how to make rice. It never fails especially with the finger trick!"
A third said: "This is smart especially if you're cooking for a large group!!" Someone else chimed: "Wow. Never knew this was a thing! Def trying it!"
READ MORE: Game-changing method to squeeze lemons properly – no seeds fall out
If you'd prefer to cook rice the traditional way, a chef said the perfect ratio of rice to water is 1:2.
Rinse the rice in a sieve to remove any starch left on the grains, then take a heavy-bottom saucepan with a tight-fitting lid.
Tip the washed rice and water into the pan and turn up the heat until the water boils, then turn the heat down and add the lid.
Leave it for 10 minutes, then turn the heat off and for another five minutes the steam inside will complete the cooking process.




Post source: Express