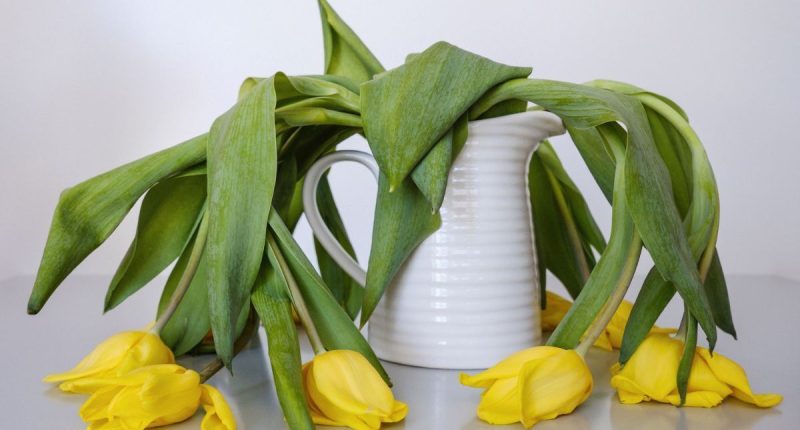 Tulips are a vibrant choice of bloom which come in a whole rainbow of colours. The versatile flowers make the perfect centrepiece to a dining table or can bring to life the corner of a bedroom. Unfortunately, when transferring tulips into a vase, they can begin to wilt or bend which can spoil the display. To help amend droopy flowers, gardeners have shared their top tips.
Carol Green took to Gardening UK to ask group members for their best advice. She said: "Any tips to stop my mother's day tulips from drooping please?"
After receiving over 120 comments within an hour of the post being up, the majority of gardening enthusiasts recommended adding a 2p coin to the vase to stop tulips from drooping.
Paula Fitt said: "Definitely 2p in the bottom of the vase. Sandra Bedford wrote: "As a former florist, a 2p in the vase and a pin prick in the stem directly underneath the flower should do it."
Lana Perry advised: "Put a 2 pence piece in the bottom of the vase. I was given this advice last year and it worked almost instantly to bring my drooping tulips back to life."
READ MORE: Houseplants you 'shouldn't ever' give tap water to – 'burns leaves'
Emma Pole said: "My elderly neighbour told me to pop a 2p in the bottom, she swears by it."
Sammy Graham wrote: "2p in the bottom, mine stay standing up for about two weeks providing no one goes moving them."
Mike Marsh recommended: "Couple of 2p coins in the water. Really works. They'll perk right back up."
Wendy Worf claimed: "Always add a 2p to the vase. Something in the metal will make them stand up."
Lo Ra Mak instructed: "Drop 2p in the vase – it is the most amazing thing ever."
Posting a picture of before and after results, Pam Connor said: "Pop a 2p in the water. I do it with my tulips and it never fails."
The aim for this method is to leave the coin sitting at the base of the container while the flowers are in there and the blooms should stand to attention for longer. 
To help cut tulips last longer, as well as stand straighter, make sure to cut the stems at an angle before placing them into the vase. This means there is more surface area for them to take water in from.
READ MORE: Hydrangea expert shares 'habit' to minimise to avoid 'killing' them
Owners should also make sure to change the water in the vase every day, rather than simply topping it up. A little flower food can also go a long way in helping preserve them.
Another gardener recommended using bleach to prolong the life of cut flowers. Elaine Murray said: "Believe it or not (as I didn't) a splash of bleach in the water. 
"In fairness I put the bleach in from the start. The tulips lasted for ages. No one was more amazed than me. All I can say is, prior to using the bleach tip, any tulips I bought in no time flopped like those in the image. 
"I was actually in a queue at a counter with a bunch of tulips and commented 'I don't know why I keep buying tulips as they flop so quickly'. It was the assistant who gave me the bleach tip."
Other gardening enthusiasts suggest that a pin prick through the stem is all that's needed to revive cut tulips or flowers.
Julie White said: "I usually pin prick with a needle through the stems under the flower, really works." In response to Julie, Helen baker wrote: "I've just done this for the first time and it really does work."
Sharing a picture of her results, Beverly Stewart commented: "I've just put a pin just under flowers and they've sprung back to life."
Kirsty Price added: "Put a pin through the top right the way through, below the head and stem. That should work."




Post source: Express