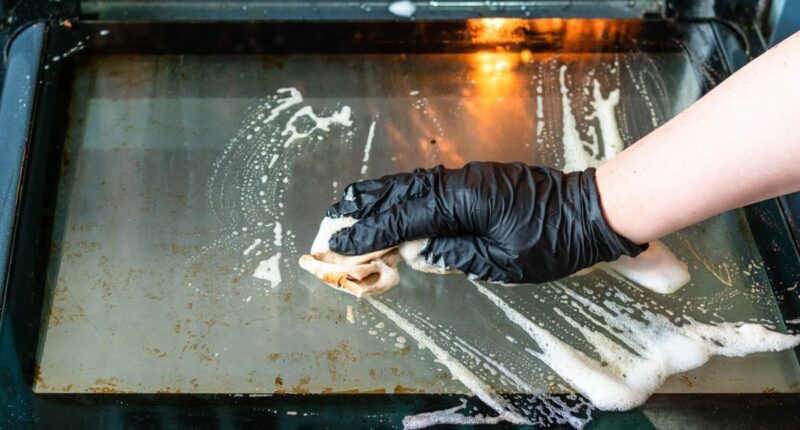 Despite the advantages of having a glass oven door, this appliance looks unsightly when grease and grime build up on the inside. If stains are left for too long, they can turn hard and crusty, resulting in some cleaning methods not working as well. To get glass oven doors back to looking "like new" one woman has taken to the Mrs Hinch Cleaning Tips Facebook page to share her go-to hack.
Washing up liquid is something many take for granted, yet it can be used on a variety of dirty items around the home. 
Demi-Leigh Freeman said: "50p cleaning job for oven door glass. It was looking brown all over but I didn't expect what I did to work so didn't originally do a before picture, so here is a during and after photo.
"I used a bit of Tescos own 50p washing up liquid cherry and it came up with zero problems and looks like new.
"I'm actually surprised!! Didn't even have to use much of it at all either. So the bottle was 50p but I probably used like, 5p worth.
READ MORE: £1 'miracle' item cleaning fans 'swear by' to get rid of ants – 'they hate it'
"Plenty of elbow grease of course, but not an insane amount. I could still feel my arms afterwards. Worked wonders."
In the first photo Demi posted, which was during the hack, half of the oven glass was covered in dark brown stains and the other side was spotless.
In the after photo the oven glass appeared to be gleaming and there was no longer any traces of stains.
The post receive over 150 likes and group members were quick to comment their thoughts.
Amy Voss replied: "I sometimes live washing up liquid to sit on the glass for a few minutes before giving it a small scrub."
Victoria Cole said: "I would put the oven on for two minutes so it's warm. Then turn off and clean with hot soapy water."
The way washing-up liquid works is actually very clever. The solution contains molecules that have two opposing sides – one side is hydrophilic (meaning it loves water) and one end is hydrophobic (meaning it does everything it can to stay away from water). 
The hydrophobic ends of the molecules cling to the grease on your dirty plates, while the hydrophilic ends try their best to get into the water. 
Fortunately, the hydrophilic ends are a little stronger, and the molecules are drawn into the water, with the grease attached.
One Mrs Hinch fan claimed that there was an easier way to clean over doors and that's to use dishwasher tablets.
Sara Louise said: "Dishwasher tablets are much easier on the arms, just dampen the surface and use the tablet to scrub. Easy. This is great work though."
While dishwasher tablets are an effective kitchen item to clean ovens, it does involve a great deal of scrubbing like with washing ups liquid.




Post source: Express