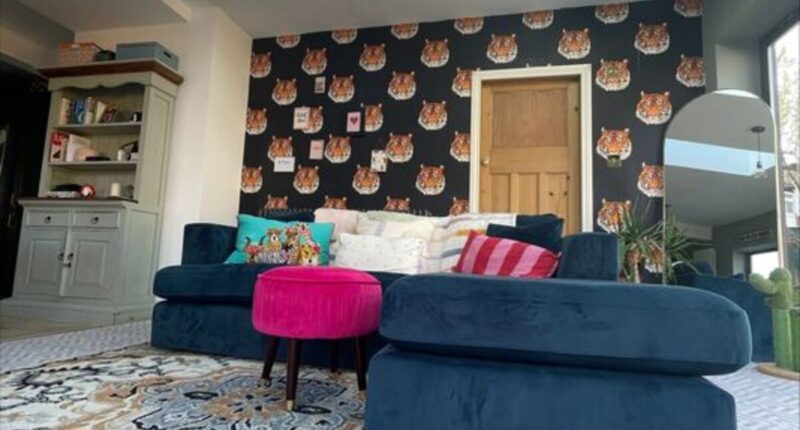 Gallery walls are a great way to inject personality and colour into a property while adding a personal touch.
They're also a temporary way to add a personal stamp as they can be easily changed around or taken down.
According to Google Trends, there have been 32,000 Google searches in the UK for the term "gallery wall" in the past month.
However, despite the look being temporary, the number of frames and prints can mean it's not the cheapest aesthetic to master.
With this in mind, CashLady.com has partnered with Instagram mum Emma Stretton, known as @emma.wears.it.all on the social media platform, from Manchester who has shared her advice on how to create a gallery wall on a budget.
READ MORE: Carole & Michael sold £1.6m house in 2012 and new home is three times the price
Emma said her gallery wall happened "by accident" and isn't yet finished. She continued: "I'd planned to have a large abstract painting commissioned by a local artist, but the price was far more than we could afford, about £500.
"I had to think of a different way to decorate the family room."
1. Statement wallpaper
Emma originally wanted to leave the walls completely white so the art would stand out.
However, she decided to choose a statement wallpaper instead. Her favourite wallpaper is from Emma J Shipley, but it costs around £55 a roll.
Instead, Emma did some research and went to high-street retailers. She found a tiger design wallpaper that was just £10 per roll which is a huge saving.
She then managed to get an even better deal after finding the wallpaper in a bank holiday sale when there was 20 percent off and got it for £8 a roll.
Emma bought four rolls for one wall which cost a total of £32. Emma's husband did the wallpapering which saved them even more money.
Estimated savings: £188
2. Greetings cards
Emma originally wasn't going to do a gallery wall as she didn't know where to start. However, a spare greeting card saw her change her mind.
She explained: "We were buying greeting cards during a weekend away and there was a three for two offer.
"We only needed two so I just bought a third one that I liked. Then when I got home, I put it in a frame we had lying around.
"That's when I thought I'd start a collection of cards from our holidays and then my 'gallery wall' would just be lots of memories."
3. Etsy
Emma bought one of her favourite prints as a greeting card from Etsy which saved her a considerable amount of money.
The print, which is from a designer called 'Zeppelin Moon', would have cost around £25 for a large print.
Instead, she bought a 7×5 greeting card which cost about £3.50.
Estimated savings: £21.50
4. Frames
Emma has kept the frames simple because she didn't want "too much going on". She also doesn't buy frames at "full price".
She added: "I love HomeSense for anything interiors-related. I always have a look in the picture frame section to see if any are on sale.
"These are the ones I buy; I don't bother with the full-priced ones. The other frames on the wall are simple metal ones from Wilko which cost about £3."
5. Wallpaper
The Instagram mum said she "loves" bold, printed wallpaper. She's yet to add any yet but she said framing pieces of wallpaper or even fabric is a really "inexpensive way" to fill up a gallery wall.
She added: "It's not worth buying a whole roll, so you can visit a local home store and take a few samples of wallpaper to frame. You could get a few contrasting prints, which would look great."
6. Take time
Emma's gallery wall is yet to be finished but she said she likes the idea of adding to it to make more memories.
She said: "If I rushed it and bought generic prints, I don't think I'd like it as much. There are a few song lyric posters I want and maybe some movie prints but I'll just keep shopping around and take my time with it."
Total estimated savings: £209.50
CashLady.com's personal finance expert, Dan Whittaker, said: "Creating a gallery wall in your home is a great way to elevate your space without making more permanent and costly changes, such as painting or wallpapering the walls.
"However, to achieve the desired look you typically need a number of frames and prints, which rarely come cheap.
"We love Emma's handy tips, which provide tried and tested ways in which she's started a gallery wall in her own home.
"Emma predicts that her tips can save you over £200, highlighting how budgeting and planning ahead can have a major impact on managing your personal finances."


[ad_2]

Post source: Express