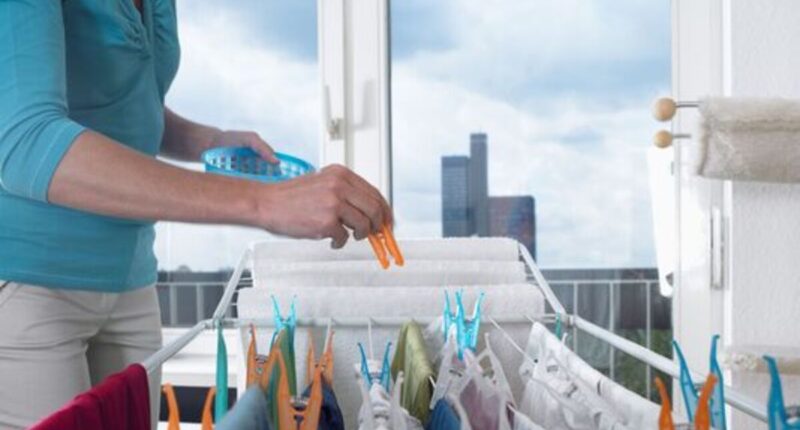 Moving into the autumn season, rainy days are becoming more frequent than usual so households need to be able to dry their clothes indoors. 
While some may think of just using their tumble dryer, not everyone has the space or budget for one of these appliances.
For those that resonate with this, they may choose to use an airer to dry their clothes indoors. 
However, when drying laundry this way clothes can often gather smells of damp, even if washed correctly. 
To avoid this Mrs Hinch fans have shared what to pair an airer with that is sure to prevent odours forming on clothes.
Taking to the Mrs Hinch Cleaning Tips and Tricks Facebook page, a woman asked for some advice on how to dry her clothes fast indoors. Charlotte Holland asked: "What's the best way to dry clothes without a tumble dryer, please? 
"I always find the clothes stink awful when I put them on the radiators/ small clothes airer. Washing pile is like a mountain at the min so all answers are greatly appreciated."
The majority of group members in the comments were in agreement that a dehumidifier needs to be used.
Dehumidifiers are electrical appliances that suck moisture out of indoor air. They are commonly used in areas of the home with high levels of humidity, places where pollutants, allergens and bacteria often develop and thrive.
Debbie Stevenson said: "A Dehumidifier placed in front of the clothes airer works the best. Game changer."
Sarah Dennord wrote: "We use a dehumidifier next to our clothes airer and it's brilliant. 
"If you have a small bedroom or utility you can put them in together and shut the door then I find two loads on a clothes horse dries fast and doesn't stink. You can wash in the morning and put away in the evening all smelling fresh."
Dolores Connolly commented: "It's not good to put clothes straight from washing machine to radiator. It would be worth investing in a dehumidifier, clothes dry quickly with one, put them on an airer beside it."
Morag Ellis added: "Put the clothes on another spin at max speed after the wash, really cuts down on drying times.
"After, separate your laundry on the airer and place a dehumidifier next to it to suck up the moisture."
When high humidity is regulated, it creates a dry environment that allows moisture to evaporate from the clothes. This evaporated moisture is sucked back into the dehumidifier and filtered from the air. 
Cool dry air from the dehumidifier blows back to the clothes, speeding up the drying process.


Post source: Express