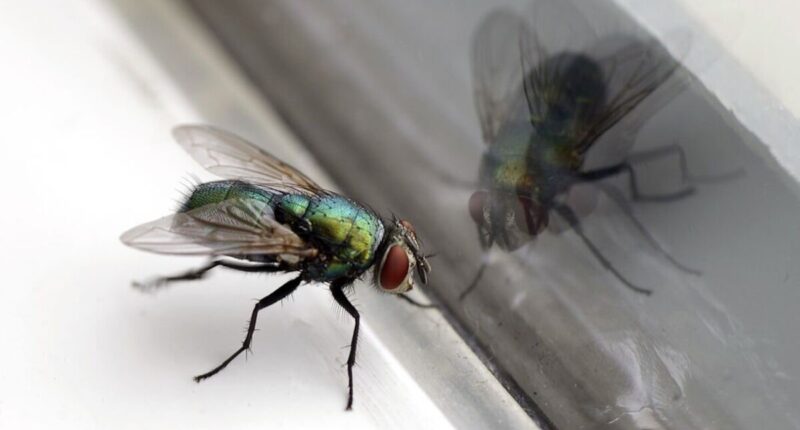 Luckily, there are natural methods to get rid of flies using household items, including brown sugar and baking soda. On the social media platform TikTok, a cleaning enthusiast shared an effective hack to "trap and kill" the insects.
The TikTok user documented how they created the fly trap: they simply used an empty plastic bottle, cut the top off, and added a spoonful of honey and a third of brown sugar.
They then added a cup of water and mixed all the ingredients together. To trap flies, the bottle must be placed in the affected area, which could be inside the house or in the garden, with the cut top flipped over the base.
On the social media platform, hundreds of users shared their thoughts after having tried the brown sugar method.
One person said it "works a treat", and another one commented: "I did it when I was in Croatia with Fanta to kill all the bees [and flies]. You don't even need honey just do it with a large orange soda bottle. Even better and cheaper!"
READ MORE: Princess Charlene 'isolated' at Monaco F1 despite her husband's presence – claim
Social media user @Mealey435 said that the hack is "great and so easy" and another one, S Romero, suggested: "Pour the honey straight in the bottle and save the mess and time."
There are many ways to get rid of house flies, and another simple hack is by using baking soda.
This method is especially effective against drain flies, and the baking soda should be poured down the plug hole at night, ideally mixed with hot water.
On a Facebook cleaning group, Chris Linale Robb recommended using "soda bicarbonate, table salt and white vinegar".
He explained how: "Two overnight doses and they were gone! Finished off with some bleach when no further evidence of the flies."
Another cleaning enthusiast, Sandra Hoban, said she used "a cup of bicarbonate of soda and a cup of white vinegar down plug hole and let it fizz".
"When it stops pour a kettle of boiling water down. Then at least once a week a cup of soda crystals and boiling water."
Other effective ways to deter flies include filling a sandwich bag with water and a few coins, a clever hack used in countries such as Spain and Italy during the hot summer months.
Pest control expert at PriceYourJob.co.uk, Walter Murphy, commented: "The best way to get rid of flies is by making sure your home is clean and free of any sugary substances, rotting meat or other waste.
"This will involve wiping down surfaces and emptying the bin as often as possible to prevent flies from lingering in your home. You can also use natural repellents, such as apple cider vinegar, to get rid of flies."


Post source: Express