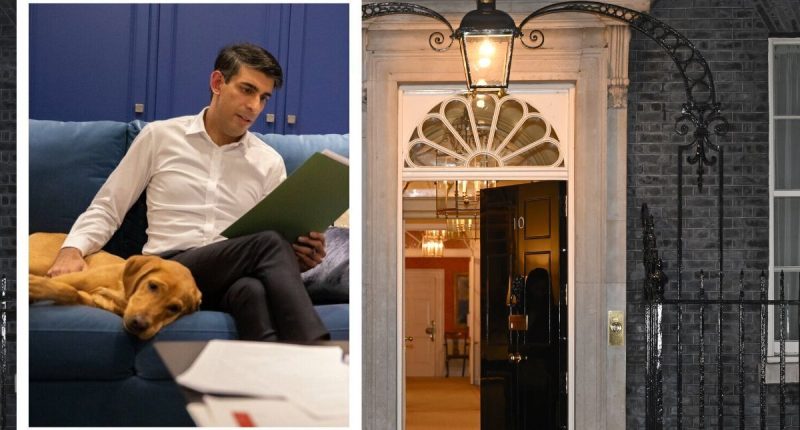 Rishi Sunak lives in 10 Downing Street with his heiress wife and two young daughters, as well as their fox red labrador retriever, Nova. The Prime Minister regularly shares snippets of his life in the historic building. With the real size of Downing Street unknown and with its history of famous residents, the actual price of the home is undetermined, but Stone Real Estate valued it to be worth £5.3million back in 2019.
In footage released prior to his interview with Piers Morgan tonight, viewers can see a glimpse into Rishi's home.
Sitting on boucle chairs in front of a fireplace, Rishi's room featured a grand traditional black fireplace with a white mantel and carved stone.
Sitting on top of the large fireplace are several personal photographs in white and silver frames showing the Prime Minister's dog as well as his family.
There are also two large black and olive green ornaments in a knot style as well as two large blue votive holders in-between. 
READ MORE: Easiest method to 'deter' rodent from your home -'they hate the smell'
Downing Street's front door can be seen in the background as the couple walk down the long corridor with yellow walls and artwork on either side.
The floor is carpeted upon entering the building, followed by wooden floor and a large runner carpet with red and white detailing.
In another snap, posted by the Prime Minister back in December, Rishi can be seen holding up an England scarf as he cheered on the country in the World Cup.
In the background of the shot, followers got to see a glimpse into what looks like a sitting room or chilling area.
It had a TV which was on, sat on an olive green stand and a cosy lamp lit beside an armchair.
There was also a display cabinet in the edge of the photo with a light on, as well as a series of pictures hung on the wall in a gold frame.
The room was also painted white, with stylish panelling running from floor to ceiling.
Watch Piers Morgan Uncensored on TalkTV at 8pm. Available on Sky 522, Sky Glass 508, Virgin Media 606, Freeview 237 and Freesat 217 as well as on DAB, Amazon Fire TV, Apple TV, Samsung TV Plus, YouTube, the Talk.TV website and TalkTV iOS and Android apps. 




Post source: Express