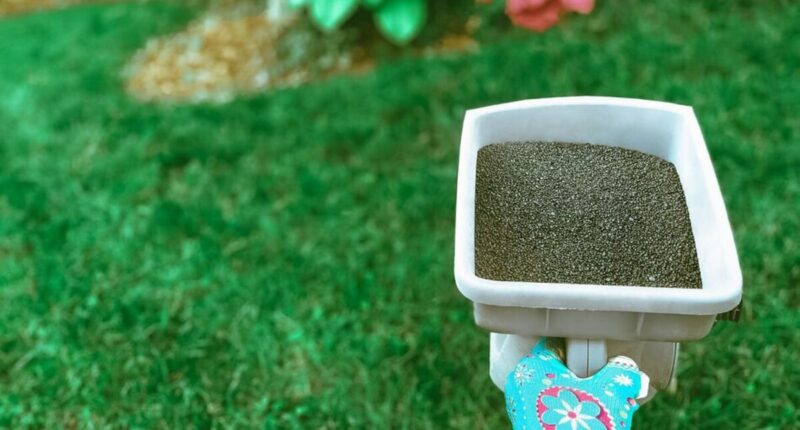 The UK is about to head into summer and whilst gardeners can enjoy the work that has been done so far to get their lawns in good condition, it is time to make sure those efforts don't go to waste as the warmer weather arrives.
Lawn care is one of the most important gardening jobs to stay on top of all year round, and it will quickly show if gardeners fall behind. 
Brown or bare patches are just some of the common problems faced by gardeners in the warmer months, but it is not always clear how to fix them. 
To help gardeners discover how to stay on top of their lawn duties in the lead-up and during summer, Timothy Greene, lawn expert at iCANLAWN.com, has shared three tips to follow.
1. Mowing 
The expert claimed that mowing is an "important part" of looking after lawns in summer. He said: "An existing lawn needs to be mown frequently and to the correct height. 
READ MORE: 'Best' method remove lawn weeds 'instantly and effectively' with 'no digging'
"This will help thicken it up, so it grows consistently. In summer you can drop the height of your mower to get your grass closer to the length you want."
He recommends mowing the lawn using the one-third rule, where gardeners only cut a third off the height of the lawn each time. 
By doing this, it ensures gardeners don't cut too far down the grass blades and gives lawns "a chance to recover" after each trim.
2. Feeding 
After spring, a lawn should be looking its very best come summer. However, warm weather, family gatherings, and kids and pets loving the summer sun often mean a lawn can be left looking "tired and worn out". 
Timothy advised that a six-week fertiliser is "the answer to help keep your grass growing green and lush" as it is "fast-acting". 
What's more, it will help a lawn stand up against warmer temperatures and combat common lawn pests and diseases.
3. Watering 
Gardeners should water their lawns with a lot of water "but not too often" in the spring and summer months. 
This will help a lawn's root system to develop, and since gardeners are not watering every day, it encourages the root system to dig deeper into the soil.
In contrast, Timothy warned: "If you water regularly and with a smaller quantity of water, then the roots will not grow as deep, which will cause your lawn stress in drought and summer heat while also encouraging weeds to grow and it increases the chance of grass diseases."
During this time of year, the lawn should be getting watered deeply every seven to 10 days. The expert noted that gardeners should see minor puddles appearing on top of their soil if they are watering correctly.
When it comes to the time of day to water lawns, Timothy recommends that this should be done in the late evening when the sun has gone down and it's cooler outside or in the early morning – but only if gardeners don't plan to mow that day.
If it's very warm outside or during a heatwave, The expert said: "Do not water on these days as the water will quickly evaporate."


Post source: Express