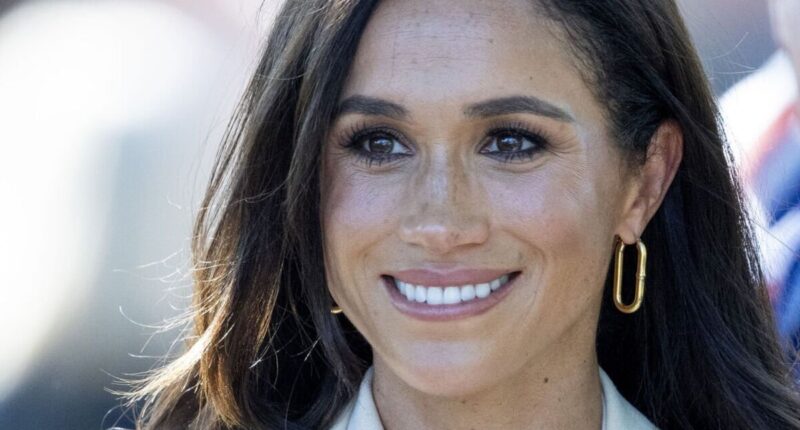 Meghan Markle has daytime makeup down to a tee, and it's totally possible to recreate her routine at home.
The Duchess looks incredible whenever she is pictured and while a lot of this is down to genetics – Meghan is a beautiful woman with fantastic features – her makeup is pretty spot on too.
Hannah Barnett, MUA at Spectrum Collections, spoke exclusively to Express.co.uk about how Meghan fans can recreate her look in just a few simple steps.
The nine-step process is super doable. Whip out this routine fit for a royal next time you need a daytime makeup look.
Hannah said: "Even when it's day, Meghan manages to achieve a sultry look but keeps it minimal and glowy."
A great makeup look starts with skincare. Hannah said: "Before applying makeup, ensure that your skin is hydrated. Apply a rich moisturiser infused with hyaluronic acid. This will not only hydrate the skin but also protect the moisture barrier and give your skin a natural glow."
Now you can move onto makeup, bearing in mind that Meghan's daytime look is pretty lightweight.
The expert advised: "Keep coverage minimal by swapping your foundation for a BB cream or a skin tint. This will give the skin a natural and unified finish. Apply concealer on top to areas that need that little more coverage."
Hannah continued: "To add a little smokiness to your day, without it looking 'too much', keep the eye makeup minimal.
"Add a black or brown eyeliner kohl to the water line and pair it with a little mascara to elongate the lashes. This will make the eyes look luscious & make them pop!"
Next is the most important step Meghan fans must not ignore. The MUA advised women: "Eyebrows are essential to frame the face.
"Groom the brows by using a brow pencil to pencil in any sparse areas. After this, brush them through with a brow gel to keep them in place for the day as well as adding fullness and texture."
Hannah continued: "Bronze the skin with a matte bronzer. Pop the bronzer on with a big fluffy brush in a three like motion – forehead, just below the cheekbone (use top of ear as a guide) and just below the jawline to define. Use the excess product on the brush to lightly buff over the face. This will add a sun kissed glow."
"To achieve nose contour like Meghan's, grab a small fluffy buffing brush and lightly sweep on either side of the nose to compliment the nose's architecture."
For a pop of "colour", place your cream blush in the palm of your hand and warm it through with a beauty blender. Hannah said: "Apply to the apples of the cheeks for a glow and a flush of colour."
Meghan tends to go for natural-looking lip shades for day events. Hannah suggested: "Add a nude lip liner to the outline of the lips to define and contour. Glaze the lips with a nude gloss for a fuller appearance."
Finally, so your makeup stays in place all day, the MUA recommended one key product: "Finish with translucent powder to avoid over powdering. Translucent powder will softly mattify any unwanted shine. While keeping skin natural and undetectable. Apply this to the forehead, between the brows, nose and chin."
Meghan fans can use products available at Spectrum Collections to recreate this beautiful daytime look.


Post source: Express