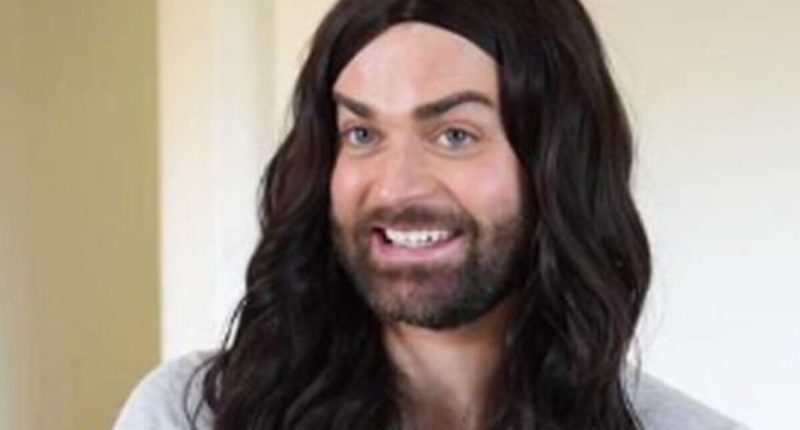 Kai Cameron is a Californian comedian who has had millions of views from his hilarious impression of Meghan Markle on TikTok. Kai does impressions of other famous people such as Madonna and Lana Del Ray in order to poke fun at celebrity culture.
Kai has gone viral on social media for his hilarious impression of Meghan Markle, in which he dresses in a long black wig and does multiple hand gestures. The comedian seems to have taken his inspiration from Prince Harry and Meghan Markle's Netflix documentary series Harry & Meghan which aired on Netflix last December.
In one video, Kai impersonates the Duchess discussing British culture, sending up the kind of humorous observations an American visiting the US might make – including shock and awe at seeing double-decker buses.
Kai, while doing his best Meghan Markle impression, said: "As an American, of course, we have the classic yellow school bus and so when me and my husband H travelled to London, I was shocked to see a bus on top of another bus."
He continued: "It was red, and honestly seeing a bus on top of another bus was really frightening".
READ MORE: Meghan Markle's fans furious over 'sick' Coronation joke on SNL
In another he joked that Meghan might have expected Julie Andrews to meet her when she arrived in the UK after the British actress played the role of Queen Clarisse in The Princess Diaries. The video, with three million views, is titled 'Meghan Markle on learning royal etiquette'.
Kai says: "Me and my husband H, we had just landed in England, and I was confused because Julie Andrews was late to meet me."
Kai, while pretending to be Meghan Markle, continued and said: "And so I waited, and I waited, and I waited and then I sort of realised that Julie Andrews wasn't late. Julie Andrews wasn't coming. And you know, as an American I just assumed that Miss Andrews would teach me everything about the Royal Family, like in the Princess Diaries."
Kai also does his best impression of Meghan Markle's reaction to the latest South Park episode. The comedy cartoon recently made a controversial depiction of both Prince Harry and Meghan Markle in which the cartoon characters do interviews and come out with books while claiming that all they want is privacy.
Kai, while pretending to be Meghan Markle in a video, did his best impression and said: "Me and H did see our little stint on South Park, and of course as an American, I've seen the show before…but I was mostly just confused because I didn't really understand who they had playing me. I mean it was weird, almost like a drawing or a cartoon."
The comedian continued: "As an actress, I just think I could have played the role better. I was on Suits right?"
A lot of people also complimented Kai's impression, as one woman named Tamara said: "I can't get enough of your videos! You do every impersonation very accurately! Don't stop 'em!" while another user said: "This is why I love your comedy it's silly and harmless. Meg would find it funny herself."




Post source: Express