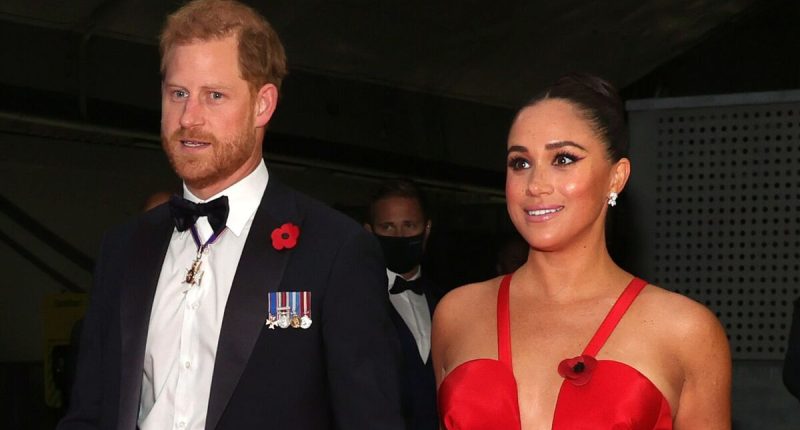 The Duchess of Sussex has had a number of fashion faux pas in her time as royal. These include leaving tags on dresses while on royal tours and leaving the seamstress's stitch in the back of her coat while on a trip to Birmingham.
One expert has told Express these "misses" are down to the fact the Duchess of Sussex hasn't worked consistently with a stylist. Hallie Abrams, a stylist herself and founder of The Wardrobe Consultant, spoke exclusively with Express.
One example of a look the stylist thought a "miss" was the red dress the Duchess wore to the Salute to Freedom Gala. The crimson Carolina Herrera gown – the same brand behind Meghan's 'inappropriate' dress for Queen's birthday celebration – had a deep neckline and voluminous skirt. And Hallie isn't the only one, the dress was criticised online too.
One Twitter user wrote: "@HouseofHerrera What. Were. You. Thinking? Couldn't you have lent #MeghanMarkle a dress that flattered her new shape?" Another described the dress as "ill-fitted".
Hallie, who also commented on Kate Middleton's red carpet "miss" at the BAFTAs this year, said of the dress: "I think she came in she probably already had her own sort of idea and style. As opposed to saying, 'Okay, well here I am, what is wanted from me?'"
READ MORE: Meghan's first blog 'made $80k per year' but The Tig 2.0 'can make much more'
It is a stylist's job to help a client pull together the best look possible, taking into account their shape, their colouring and what they want to look like. Hallie says the better the relationship with the stylist, the better the client's end result will be.
Hallie explained Meghan has had "a few stylists that have worked with her, instead of maintaining a close relationship with one. Kate, the Princess of Wales, on the other hand, has worked with the same stylist for 16 years.
Hallie explained why a close relationship with a stylist is so important. She said: "You can see, again whether it's on a red carpet for the Oscars or wherever, where the stylist and the client collaborate and work well together. But there are misses. And it's hard when you're in public life, When there's a miss, it's very public."
Meghan is reported to have worked with a number of stylists and to often style herself. Her friend and make-up artist Daniel Martin – who famously did Meghan's make-up for her wedding – told CBS's Gayle King the Duchess does her own styling.
He said in 2019: "She doesn't have a stylist. Everything she wears she picks herself. It's pretty incredible that she can manage all of this."
However, she has worked with numerous stylists since. According to reports Meghan worked with Maria Means Cote, former PR and celebrity relations manager for Prada, to put together her looks for her farewell UK tour.
A source told the Mail on Sunday: "Maria was Meghan's stylist and assistant – she called in all her clothes and planned all her outfits."
It's this tour that Meghan explained she wanted to look like a "rainbow" for in the documentary Harry & Meghan.
The Duchess said: "Until that last week in the UK, I rarely wore colour." The reason for that she explains was because "I never wanted to upstage or ruffle any feathers. So I just tried to blend in. But I wore a lot of colour that week… I just felt like, 'Let's just look like a rainbow'."
For her Time 100 cover in 2021, the Duchess was styled by Nina Hallworth.
Kate Middleton, on the other hand, has worked with the same stylist for many years. The pair have worked together since 2007. They are close, with Archer, who first worked for Kate as PA, being one of the first people to visit Kate after the birth of Prince George.
Hallie added: "I think it is a true partnership, between Kate and Natasha. You know, when I work with clients, it's not my style. It's me helping them define their style to be the best version of themselves."




Post source: Express