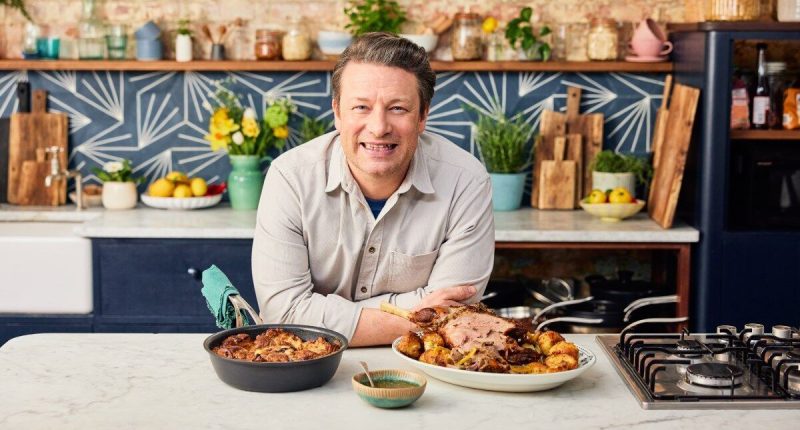 Millions of hosts like the idea of entertaining at home – but end up wishing the day and night away because they find it so stressful. A poll of 2,000 adults, who cook food for guests, found the most challenging things about hosting include making sure the meal tastes nice, elements of the menu are cooked at the same time, and being stuck in the kitchen and not able to socialise.
And a third worry about keeping all their guests entertained – but 19 percent start cleaning when they want to hint it's time for people to leave.
Despite this, 26 percent are planning to host this Easter bank holiday weekend, with 24 percent of those feeling apprehensive about festivities.
In a bid to help combat the stress, Jamie Oliver has partnered with Tesco, which commissioned the research, to create a fuss-free, prep-ahead, five-ingredient roast leg of lamb recipe, and a hot cross bun pudding which uses leftover buns, and costs just £0.63 per portion.
Jamie said: "My secret to cooking a roast for a crowd is to choose a deliciously easy recipe that's reliable, you can prep ahead of time, and one where the oven does all the hard work – so you can spend time with family and friends, and not be stuck in the kitchen."
It also emerged almost half (47 percent) stress about getting the house clean enough for guests, while 38 percent worry about the meal tasting good enough to impress.
Easter will be spent celebrating at home this year – and, of those who aren't hosting, 22 percent will enjoy being a guest at someone else's house.
It also emerged that 43 percent of hosts have regretted overcomplicating a menu for a get-together, with 52 percent of those desperate to impress.
But 44 percent of those polled, via OnePoll, want a challenge.
Tesco has worked with Jamie Oliver to curate 30 limited edition "Easter in a box" hampers including recipes and treats, which can be won via the supermarket's Instagram and Facebook pages.
Alessandra Bellini, chief customer officer, said: "We know that many of our customers celebrate Easter, and we want to help them to come together with friends and family over good food at great prices.
"We've created some delicious recipes with Jamie to show people that hosting a gathering over the long weekend can be low stress, low spend, and maximum enjoyment, especially when taking advantage of our cracking Easter offers in store."




Post source: Express