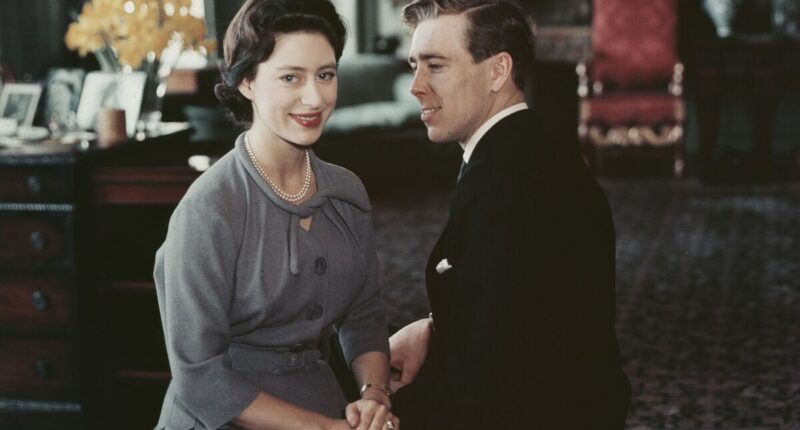 Princess Margaret became engaged to Antony Armstrong-Jones in February 1960.
Three months later on May 6, 1960, in Westminster Abbey, Princess Margaret walked down the aisle to marry the future Earl of Snowdon. But what did her engagement ring look like?
Jessica Flinn-Allen, the CEO and founder of Jessica Flinn, wedding and engagement ring specialists, spoke exclusively to Express.co.uk to explain.
She said: "Antony Armstrong-Jones proposed to Princess Margaret with her engagement ring at Windsor Castle in 1960. The design was created to look like a rosebud in honour of Margaret's middle name, which is Rose.
"Princess Margaret's engagement ring contained three oval cut rubies, looking to be of approximately five to six carats in total.
READ MORE: Doria Ragland 'looks flawless' in £557 shoes and gold necklace to match Meghan
"The brilliant round cut diamonds above and below add a bold contrast, with a baguette cut diamond completing the design on either end. It is valued at approximately £90,000 to £120,000."
Ruth Burnell, the Jewellery and Diamond Buying Manager at Berry's Jewellers also spoke exclusively to Express.co.uk about Margaret's ring.
She said: "The design for the ring was unusual as it had three central rubies with brilliant cut diamonds, but also a baguette cut on either side, which was quite modern for the time period.
"Princess Margaret, it seems, also started a trend within the Royal Family for coloured stones being used for the engagement ring, followed by Sarah Ferguson also having a ruby, then Princess Diana with a sapphire, and more recently, Princess Eugenie with a Padparadscha."
Style expert Susannah Lovis gave a suggestion for who designed the ring, which she exclusively told Express.co.uk.
She said: "It is rare for us to know so little about such a historic piece. There are no clear images, and despite my efforts, I have been unable to find where it was made. Traditionally the royal engagement ring would be made by either Garrard or Cartier.
"Made in 1960 and worn by a remarkable Princess, I ask myself who has bequeathed this important, simple but beautiful piece.
"There is speculation that it was passed onto one of her granddaughters. We will have to keep our eyes open and maybe one day we will see it!"
Aimee Howlett, a jewellery and trends expert at Diamond's Factory exclusively told Express.co.uk: "The current owner of Princess Margaret's ring is not publicly known but it is speculated that one of her children may own the ring.
"Following her death in 2002, her personal jewellery collection was auctioned at Christie's in London on June 13, 2006.
"After her divorce, Princess Margaret continued to wear her engagement ring for some time, but eventually stopped wearing it. She reportedly replaced it with a ruby ring that she wore on her right hand.
"Princess Margaret's ring is not only significant for its stunning design, but also for its unique combination of modern and traditional elements.
"Custom-designed in 1960 by her partner at the time, Antony Armstrong-Jones, the ring features a beautiful ruby centre stone surrounded by diamonds and set in a platinum band.
"The ruby is especially meaningful as it symbolises love, passion, and courage, reflecting Margaret's middle name.
"The surrounding diamonds represent purity, innocence, and eternity.
"During the 1960s, the ring's modern design was considered unconventional for a royal engagement ring."


[ad_2]

Post source: Express