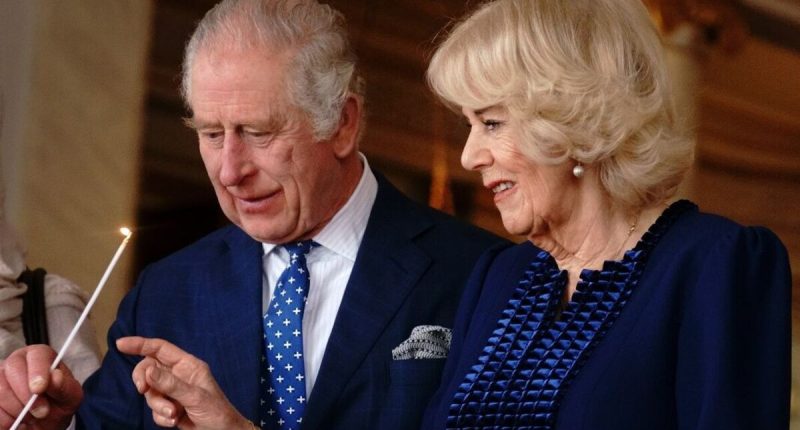 Charles and Camilla were yesterday joined by Holocaust survivor Dr Martin Stern and Darfur genocide survivor Amouna Adam, before lighting a candle in remembrance of the victims of genocide. Photos of the couple and the guests were shared on the Royal Family's social media pages.
Looking at the photos, as well as the short video clip posted on Twitter, body language expert Judi James spoke to Express.co.uk about the royal couple's facial expressions and gestures.
She said: "There is as strong sense of mirroring here that creates the impression of a team of two as the couple light candles on Holocaust Memorial Day.
"Camilla appears to have dressed to compliment her husband's suit and their body language is synchronised to move together, suggesting shared goals and objectives."
Judi noted that Camilla acted, like she often does, as a wife to her husband, more than as a Queen.
READ MORE: Harry and William never used to 'perform' – but now 'smiles are fake'
She said: "Camilla is, as always, keen to monitor her husband, not only to check all has gone well for him, but also to mimic his displays.
"This suggests some existing levels of personal anxiety, but also a desire to offer support and a reassuring presence for her husband as he goes about his duties as King."
The King and Queen's matching outfits were blue – a hue they often wear, especially Camilla.
Charles donned a dark blue suit with a white shirt and a light blue and white polka dot tie.
DON'T MISS:
Meanwhile, the Queen Consort wore a navy blue, long-sleeved, knee-length dress. The garment featured six rows of material on the front in different lengths.
This material continued around Camilla's collar, as well as the cuffs of her sleeves. She also wore her iconic black suede boots, which she has worn many times before.
The boots were designed by Russell and Bromley. To accessorise, Camilla wore her clip-on pearl earrings, which she also wore on her wedding day to King Charles in 2005.
Although it is not confirmed which brand created the earrings, we know they are clip-on jewels because the Queen Consort's ears remain unpierced. She has this in common with other royals, such as Princess Beatrice, who frequently wears clip-on earrings.
READ MORE: Meghan wasn't afraid to 'embarrass family' during final days as royal
Around her wrist, Camilla wore one of her other favourite accessories: a Van Cleef and Arpels Magic Alhambra bracelet.
Daena Borrowman, the PR, Social and Digital Marketing Manager at jewellerybox, has spoken to Express.co.uk about Camilla's love of Van Cleef and Arpels' jewellery.
She said: "Queen Camilla is very fond of the brand. In fact, before King Charles' accession, she already owned a splendid collection.
"Her favourite set is Van Cleef and Arpels' signature Magic Alhambra collection. Frequently seen with her blue and gold Alhambra bracelet, the emotional value the jewellery holds to the British Queen is unclear. However, it is very clear she is head over heels for the brand."
Posting on Twitter yesterday, the Royal Family said: "The King and The Queen Consort are joined by Holocaust survivor, Dr Martin Stern, and Darfur genocide survivor, Amouna Adam, to light candles in remembrance of the victims of genocide.
"Martin and Amouna shared their stories and their ongoing work with @HMD_UK to ensure the lessons of the past are not forgotten.
"Today at 4pm, candles will be lit in windows across the United Kingdom to #LightTheDarkness in a national moment of commemoration and solidarity."
In a statement, Charles wrote: "In learning from the horrors of the Holocaust and the genocides which followed, we can all recommit to the vital principles of freedom of conscience, generosity of spirit, and care for others that are the surest defences of hope."




Post source: Express