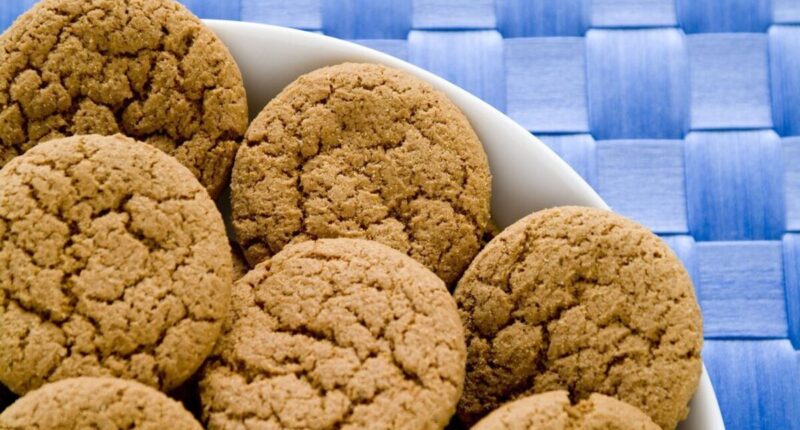 The Great British Bake Off has swapped cakes for biscuits this week, where the contestants have been tasked with making three different versions of the tea time snack.
Paul Hollywood and Prue Leith will judge the taste and appearance of the sweet bakes again, with presenters Noel Fielding and Alison Hammond on hand to support the bakers through the process.
While many people bag affordable biscuits in their weekly shop, an expert has shared her simple recipe for a British classic – ginger nuts.
Also known as ginger snaps, the spiced snacks are a staple with a cup of tea, and they're easy to make from scratch for those hoping to follow along with the GBBO this year
Speaking to Express.co.uk, baking expert and founder of Candy's Cupcakes revealed that there's just one step to pay close attention to for that signature crack on top of the dough.
Method
Start by preheating the oven to 190C or gas mark five. Take a large mixing bowl and sieve in all of the dry ingredients, then stir to combine them.
Cut the butter into small chunks and then rub them into the dry mixture until it turns crumbly. This should be a fine sand-like texture rather than a lumpy consistency.
Finally, add the golden syrup and mix it all together until a richly coloured dough is formed.
On a lightly floured surface, roll the dough out into a rectangle with a thickness of just 1cm. Candice noted that this is crucial as it "allows the dough to rise and crack on top".
Divide the dough into 12 even portions (or more for smaller biscuits), and roll into balls. Place them onto a baking tray lined with greaseproof paper, then press each one down a little, but not too much.
Candice said: "Make sure they're evenly spaced out and have room to spread when baked. Do this for 12 minutes at which point the cracks should appear".
Leave to fully cool on the tray before serving and enjoy on their own or with a hot cup of tea.
Candice noted: "The dough can be wrapped in clingfilm and stored in the fridge. Once chilled this is a great way to make the dough suitable to roll out and cut into shapes. When baked from chilled they should retain the chosen shape."


Post source: Express