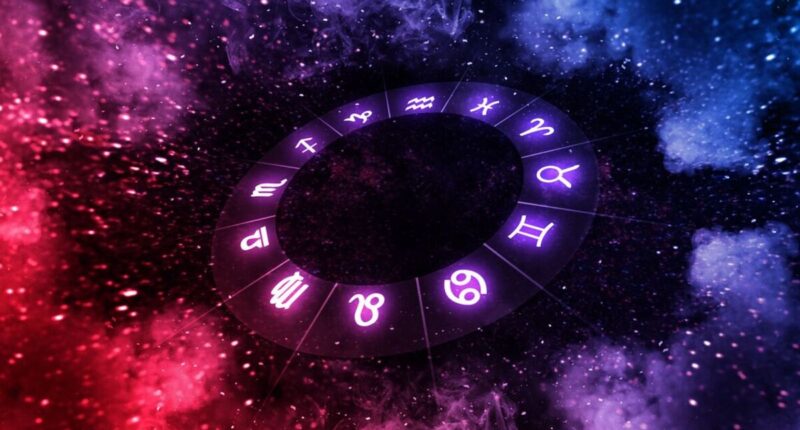 Russell Grant shares his analysis (Image: Getty)
Aries (Mar21/Apr20) 
Domestic activities are a profound source of pleasure on the 2nd; take this opportunity to connect with your nearest and dearest. Activities like baking, gardening, and decorating are also favoured. The Full Moon on the 4th finds you returning from a romantic trip.
Alternatively, it's possible you'll reunite with your amour after coming home from this journey. Your charisma gets a big boost on the 5th, possibly triggering a friend's jealousy. Emerging from a self-imposed period of solitude makes the 17th a happy day for you. It's nice to resume your busy social life. On the 18th, the New Moon warns against blurting out a friend's secrets; do your best to maintain their privacy.
Taurus (Apr21/May21)
Your charming way with words attracts an artistic admirer on the 2nd. This is the beginning of a beautiful relationship. The Full Moon on the 4th brings an end to a period of intense spending, allowing you to build up savings again.
An original idea for a business is worth developing on this magical day. Your home life is a source of tremendous happiness on the 5th; don't feel pressured into staying late at work. A relative will try to take advantage of your generosity on the 11th; be ready to turn down their request for a loan. On the 18th, you could get a job offer, thanks to the New Moon. Unfortunately, this position won't leave much time for creative pursuits.
Gemini (May22/June21)
Your creative contributions earn lots of money on the 2nd. Don't be afraid to make a bold proposal on this whimsical day. The Full Moon on the 4th brings exciting news from a business or romantic partner.
Your alliance gets a big boost from this turn of events. Trust your instincts on the 11th, as they will lead you to a lucrative job that brings financial stability. It's best to listen more than you speak at work on the 15th. You get an added measure of freedom on the 17th when your supervisor turns their attention to more pressing matters. On the 18th, the New Moon warns against changing your look.
Astrology explained (Image: EXPRESS)
Cancer (June22/July23)
A clever social media post will go viral on the 2nd. This is also a good time to display pictures of your creative work. On the 4th, the Full Moon helps you achieve a fitness goal. Give yourself a handsome reward for all your hard work. A romantic attraction is too powerful to resist on the 11th; be guided by your heart instead of your head. Plans to travel or take a course could be cancelled on the 17th; try not to be disappointed.
By staying optimistic, you'll attract a bigger and better opportunity to expand your horizons. The New Moon on the 18th makes you yearn for privacy.
Leo (July24/Aug23) 
The Full Moon on the 4th brings about an exciting change in a romance. This is a great time to get engaged or married. Alternatively, you could finish a creative project that brings you fame and acclaim. Your star power is tremendous on the 5th; a control freak will be threatened by all the attention you receive.
Try not to steal your boss's thunder at a work meeting on the 11th. On the 18th, the New Moon can stir up problems in your social life. It's possible a friend won't pay back a loan, causing you to reconsider your relationship. Be ready to draw boundaries with a demanding love interest on the 19th.
Virgo (Aug24/Sept23)
Someone who has a crush on you makes a romantic offer on the 2nd. You two are well suited to each other. Wrap up a domestic matter on the 4th, when the Full Moon urges you to move on to bigger and better things. It may be impossible to resist the allure of a magnetic romantic interest on the 11th.
Be open to embarking on a relationship with someone who has an earthy sense of humour. The strain on a close partnership will weaken on the 17th; meeting with the one you love will be easier. On the 18th, the New Moon warns against accepting a career opportunity that seems too good to be true.
Astrology: Expert reveals new zodiac dates as stars realign
Libra (Sept24/Oct23) 
The Full Moon on the 4th brings a close to an incredibly busy period for you, giving you a chance for a much-needed rest. Beware of steering a friendship into romantic waters on the 5th; it's probably best to keep things platonic.
You experience some drama at home on the 11th when an issue you thought had been resolved rears its ugly head again. If you're feeling weak or tired on the 17th, it's best to cut back your work schedule. On the 18th, you'll be tempted to book a trip. Taking out some travel insurance is wise, as your plans could be unexpectedly cancelled.
Scorpio (Oct24/Nov22)
Going on a trip for pleasure is strongly favoured on the 2nd. If you're single, you could find love on this magical journey. The Full Moon on the 4th marks the end of a source of earned income.
Once this assignment ends, you can form a business partnership with someone who admires your creativity. Don't let a pushy relative discourage you from pursuing a professional goal on the 5th. On the 11th, you need to remember that your words have power. Make it your mission to only speak positive words, especially about yourself. An old love interest will try connecting with you on the 17th; be wary about letting this charmer back into your life.
Sagittarius (Nov23/Dec21)
Finding a beautiful place to live is a distinct possibility on the 2nd; give yourself permission to improve your living situation. On the 4th, the Full Moon invites you to end a role that no longer serves you. Adopting a new lifestyle allows you to travel more freely. The 11th helps you find a source of passive income; it will be so much fun to get paid for doing a bare minimum of work.
Pressure at home will ease on the 17th, deepening your enjoyment of domestic activities. The New Moon on the 18th warns against getting involved in an intense partnership. It's better to take things slow so you two can develop trust.
CAPRICORN (December22nd-January20th)
The Full Moon on the 4th brings an end to a period of isolation for you. At long last, you can devote time to a close relationship that brings you joy. On the 11th, you'll resume a high-profile role that allows you to exercise your leadership ability.
You'll enjoy using this position to make order out of chaos. Harsh criticism of your work stings on the 15th, but if you take it in the right spirit, you can significantly improve your performance. It will be easier to accomplish tasks on the 17th when stubborn delays vanish into thin air. On the 18th, the New Moon inspires you to start a health regimen.
AQUARIUS (January21st-February19th)
On the 4th, the Full Moon marks the successful conclusion of a group project. Getting this job off your plate gives you more time for romance. You attract admirers like moths to a flame on the 5th. Try not to scare off someone special with your intense personality; you can be quite intimidating without knowing it.
Returning to a spiritual matter will be soothing on the 11th; it's important to escape the pressures of the material world from time to time. Financial constraints ease on the 17th, allowing you to make your money stretch further. The New Moon on the 18th warns against jumping into a relationship too quickly.
PISCES (February20th-March20th)
The 2nd is one of the most romantic days of the year for you. If you're single, you could meet someone special at an art show or spiritual retreat. Fish that are in committed relationships may enjoy second honeymoons with their amours. On the 4th, the Full Moon brings a spectacular career opportunity into your orbit; accept this offer with an open and grateful heart. Work commitments prevent you from attending a social event on the 5th; try not to be bitter.
Fortunately, your professional commitments will lessen on the 17th, giving you more time for the people and activities you love.


Post source: Express