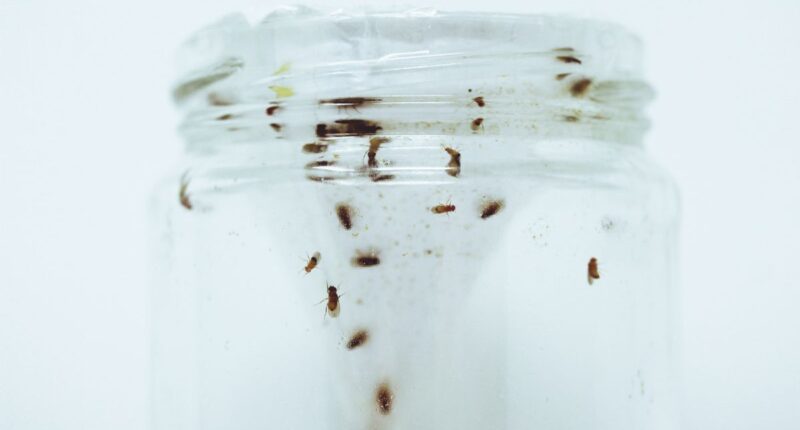 Fruit flies are mainly attracted to fermenting fruits and vegetables, but they can also be drawn into the kitchen through sweet scents. 
This means it is extremely important to keep the kitchen clean at all times, remembering to tidy away any food, according to Garden Buildings Direct.
A spokesperson for the company said: "Many people across the country have noticed a huge increase in the amount of fruit flies pestering them in their homes.
"They often make their way in after being attracted to the scent of fermenting fruit or veg, and then lay eggs in moist areas like kitchen and bathroom drains.
"Luckily, there are a few simple cost and effective tips people can use to get rid of pesky fruit flies for good.
READ MORE: Lawn jobs to achieve a 'picture-perfect' lawn
"There are even some cupboard essentials which will come in very handy and are easily accessible to all."
1. Apple cider vinegar
Apple cider vinegar is great for trapping all kinds of bugs and flies in the kitchen and it can be purchased in the supermarket.
The scent of the white vinegar draws the flies in, while adding a small amount of washing up liquid will ensure they remain trapped in the bowl.
The experts recommended placing the bowl in a central area to attract as many pests as possible.
2. Sugar
The pros explained: "For those who don't have vinegar to hand, a super easy but effective bait for flies is anything sweet, like honey, syrup or sugar. 
"Fill a small glass jar with water and add one teaspoon of sugar and place it in your kitchen – once flies have been captured in the jar, pour away and repeat the process."
3. Proper food storage
Preventative measures should be put in place to prevent fruit flies from entering the home in the first place.
According to the pros, one of the best ways to prevent further infestation is to seal all loose food products in air tight containers, placing them in the fridge.
They added: "This is especially true of fruit and vegetables. If any produce becomes overripe, dispose of it immediately."
Fruit flies can also be attracted to drains, bins, food waste and any warm spaces so make sure these are all cleaned regularly.
This included wiping them down at the end of each day to make sure flies won't be attracted to any food remnants and prevent female flies from laying more eggs.
Britons should also make sure they don't leave any fruit on the side, especially if it is going off.


[ad_2]

Post source: Express