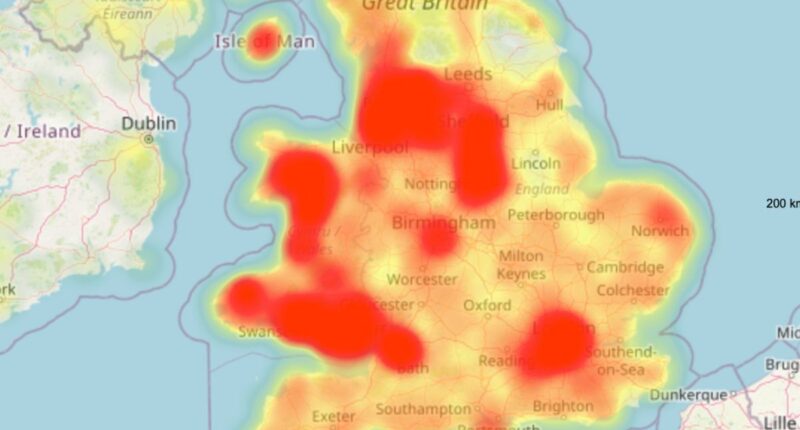 Japanese knotweed is a highly invasive weed species which usually emerges in March or April, growing rapidly up to 2.5 metres by mid-summer.
It can be identified by its bamboo-like canes and distinctive bright green leaves which grow in a zigzag pattern along the stem.
Mature plants flower in August, becoming covered in clusters of small white flowers.
Knotweed does not produce viable seeds as all the plants in the UK are female, meaning it usually spreads through the movement of soil or gardening waste.
Having knotweed in the garden or nearby can be extremely detrimental, causing damage to property structures.
While it isn't illegal to have the weed growing on your own land, if it is allowed to cross a boundary into an adjacent property, legal disputes can arise between neighbours.
The experts at Envrionet said: "Similarly when properties are sold, sellers are asked a direct question about whether knotweed is present, even if hidden beneath the ground or within three metres of the boundary, and those who fail to declare it can be sued by their buyer for misinterpretation."
With over 50,000 known infestations across England and Wales, there is on average, one occurrence of knotweed in every 3km².
Environet has found South Wales to be one of the worst affected regions, with four locations on the hotspot list. Nearby Bristol has the third highest number of sightings in England with 986 infestations reported, after Bolton in Greater Manchester with 1,010 sightings.
In fourth place is Cardiff with 872 infestations, followed by Preston, Lancashire, and Nottingham with 803 infestations.
Derby was next on the list with 711 sightings, followed by Caernarfon, Gwynedd, North Wales, Llanelli, Carmarthenshire, South Wales and Bridgend, South Wales with 664 knotweed sightings.
Charting the spread of Japanese knotweed across Britain, Exposed: The Japanese Knotweed Heatmap alerts homeowners and homebuyers to the risk level in their local area. 
Users can enter their postcode directly into the map to discover the number of verified knotweed sightings within a 4km radius, with hotspots highlighted in yellow, orange or, in the worst cases, red. They can also add sightings by uploading a photo to be verified by experts.
Nic Seal, founder of Environet, said: "Vigilance is the best way to protect your property from the risks posed by Japanese knotweed. 
"Make sure you know what knotweed looks like and how it differs from other common garden weeds like ivy and bindweed, so you can keep an eye out for it in your garden and neighbourhood. 
"Knotweed is easily identifiable during summer, but as we head through the autumn and into winter, the above-ground growth dies back and it becomes much harder to spot. 
"It's also easier to conceal, so anyone viewing a property to buy should be extra careful. There are lots of horror stories out there but with professional help, knotweed can be successfully treated and a property's value can be largely restored."


Post source: Express