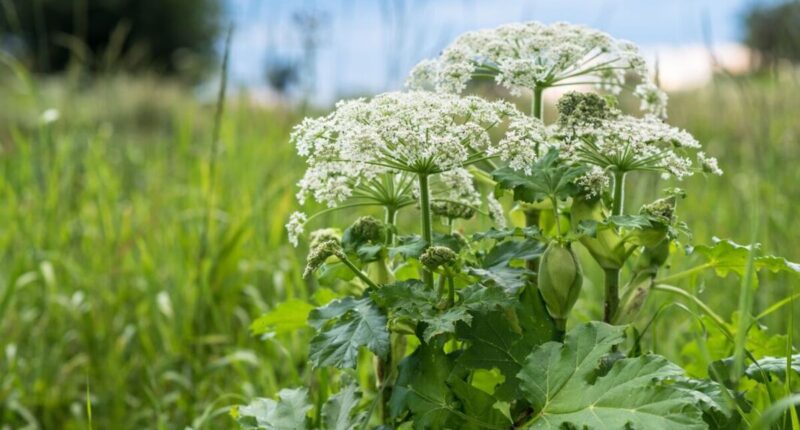 According to experts at Sheffield and Rotherham Wildlife Trust, giant hogweed is often referred to as "the UK's most dangerous plant", with its toxic sap that can cause life-changing burns and blisters for those that come into contact with it.
It is an invasive species commonly found along river banks, roads and railways as well as on wasteland and in gardens and allotments. 
Reaching up to five metres in height, giant hogweed has thick, purple spotted bristly stems and large, white umbrella-like clusters of flowers.
Once in flower, giant hogweed can produce up to 50,000 seeds per plant, taking advantage of passing traffic and water flow to disperse and spread.
The UK is being warned now of this plant as giant hogweed has now entered the flowering season, blooming in June and July.
READ MORE: 'Wrong location' to grow plants that causes them to 'deteriorate' and 'die'
Speaking to the Liverpool Echo last year, a dog owner described how his Staffordshire Bull Terrier, died after touching the toxic plant. Seeking medical help, the owner said a vet confirmed the cause of the injuries saying, "that's definitely giant hogweed, we can prescribe pain killers but there's no cure for this".
The experts at Sheffield and Rotherham Wildlife Trust claimed that although touching the plant is painless, chemicals in the sap can "cause severe skin irritation and photosensitivity" to humans and dogs.
Usually developing over a number of hours, symptoms of giant hogweed contact look very similar to a bad case of sunburn and include painful rashes, boils and blisters.
Further exposure to sunlight can reactivate these symptoms, causing frequent and long-lasting damage to the skin.
For those who may think that they have this plant growing on their property, they may be keen to find out how to get rid of it.
The wildlife pros said: "Giant hogweed is listed under The Wildlife and Countryside Act 1981 (schedule 9), meaning it is an offence to plant or otherwise cause it to grow in the wild in England and Wales (similar legislation applies in Scotland and Northern Ireland).
"There is no legal obligation for owners to eradicate giant hogweed on their own land, however, they do have a duty of care to ensure it does not spread further afield."
Controlling giant hogweed should only be done wearing full protective clothing, ensuring that all garments and tools are thoroughly cleaned after contact with the plant.
Equipment such as strimmers should not be used to tackle giant hogweed as this can result in the airborne distribution of seeds.
Also, chemical treatment in close proximity to rivers, streams and ponds should only be conducted by a competent operative and in conjunction with the Environment Agency.
Classed as controlled waste, the experts explained that giant hogweed can only be disposed of at licenced landfill sites and with the correct documentation.  
For this reason, it is usually recommended that you involve an experienced contractor in the removal of this invasive plant.


Post source: Express