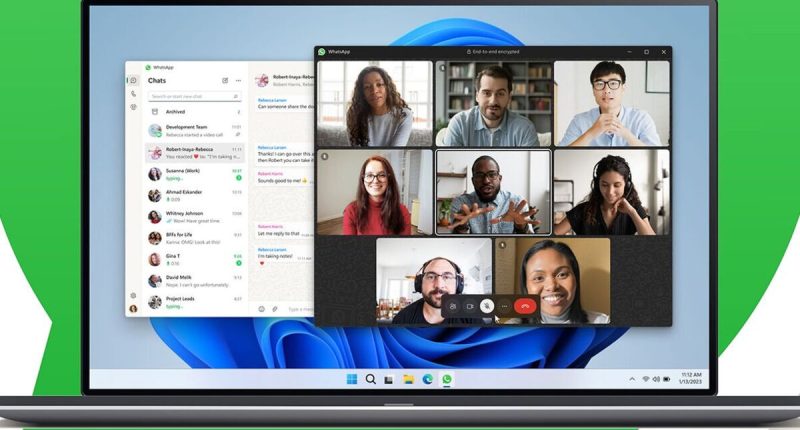 Windows users who like to use WhatsApp on their computers have now been handed a considerable boost, as the company has announced that a new desktop app for the popular messaging service is now available for Windows. While previously you may have had to rely on using the web browser version if you have a laptop running on Windows, this update is set to give a much smoother experience.
WhatsApp noted that the new Windows app loads faster, syncs better between your phone and laptop, and even allows you to start group video calls with up to 8 people and audio calls with up to 32 people.
In a blog post, WhatsApp noted that they would "continue to increase these limits over time so you can always stay connected with friends, family and work colleagues."
Just like the mobile version, the popular messaging service will offer end-to-end encryption for messaging, media, and calls across devices.
In a statement, the service owned by Mark Zuckerberg's Meta said: "Since introducing new multi-device capabilities, we've listened to feedback and made improvements including faster device linking and better syncing across devices, as well as new features such as link previews and stickers.
"As we continue to increase the number of devices which support WhatsApp, we've just introduced a new WhatsApp beta experience for Android tablets.
"We're also launching a new, faster app for Mac desktops that is currently in the early stages of beta.
"We look forward to bringing WhatsApp to even more devices in the future."
How to download WhatsApp Desktop
To install WhatsApp Desktop on your computer, you can download it from the Microsoft Store, Apple App Store, or WhatsApp website.
READ MORE: Don't use WhatsApp again until you know about these new threats
The company noted that WhatsApp Desktop will only work on computers that meet the following operating system requirements:
Windows 10.1 or newer
macOS 10.11 or newer
If your operating system is older than that, and you cannot update it further, you can still use WhatsApp Web on your browser.
If you still prefer using WhatsApp on your smartphone, don't worry, the company still has something new for you.
Earlier this week, WhatsApp published a new update designed to make groups more manageable for admins and easier to navigate for everyone.
The new update gives admins of group chats more control over who can join the conversation, making it more private.




Post source: Express