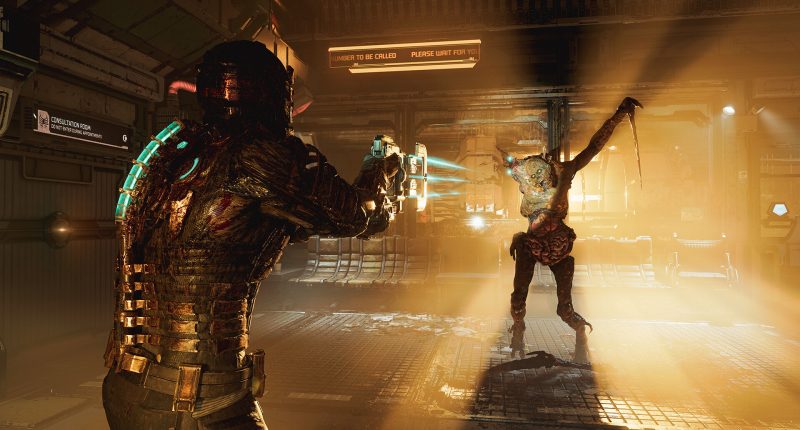 Marker Fragment 11 Location
This Fragment is also found in Chapter 10. After you've spoken to Terence Kyne, head to the Inquiry Desk room. There, you'll find a Fragment sitting on the desk.
Marker Fragment 12 Location
The final Marker Fragment is thankfully pretty easy to find. Once you've reached the Cargo Bay in Chapter 11, keep an eye out for a shelf in the southern part of the room. You should find the final Fragment on that shelf.
Once you have all 12 Fragments, head to the Crew Deck and look for the Executive Quarters. In the Captain's Quarters area, you'll find twelve pedestals. As you've probably guessed, you need to insert the Fragments into those pedestals. From there, you just need to finish the New Game+ campaign in order to see the secret ending.
Dead Space Remake Secret Ending Explained
In order to appreciate the significance of the Dead Space secret ending, you first need to know what happens in the base (or "original") Dead Space ending.
In that ending, Issac defeats the Hive Mind and makes it back to his ship. As he is escaping, though, he is seemingly attacked by a mutated version of Nicole in one of the great jump scares in gaming history. The game cuts to credits shortly thereafter.
In the secret ending, Issac also defeats the Hive Mind and makes it back to his ship. This time, though, he is not attacked by Nicole. In fact, an apparently mutated version of Nicole asks Issac if they're going home because there is "so much work to do." Issac replies, "Soon, I promise. Gotta build a little something first." Nicole (such as she is), then approaches Issac in an embracing manner and asks if that something is for her. As she puts her hand on Issac's shoulder, he says "It's a surprise, sweetie. But I think you're going to like it."