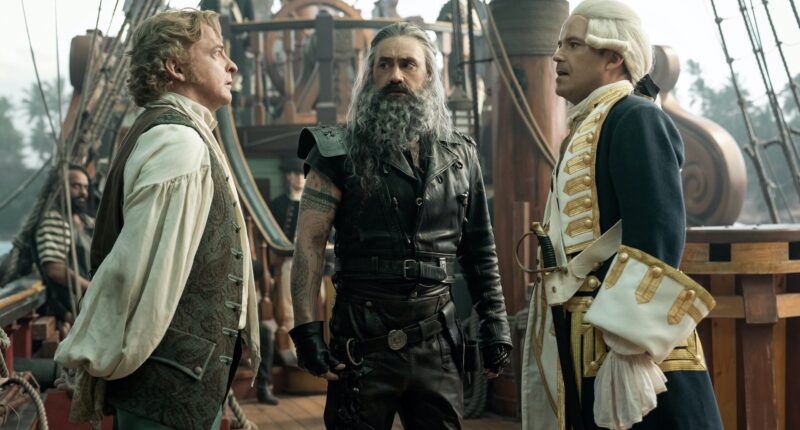 This Wednesday, June 22nd, Victo Ortiz, the actor and activist portraying non-binbary knife wielding person of mystery Jim Jimenez on the HBO Max comedy is joining a crew of super fans for the livestream event: Our Flag Means Queer Rights at 8pm ET. 
Ortiz will be interviewed by YouTuber Jackson Bird as part of an online event that promises to "cheer fans on as we take action to create a world that's a little more like the Revenge (chaotic, fun, and accepting, minus the scurvy). We'll make our voices heard with kindness, love, and a little bit of f*ckery." F*ckery being Blackbeard's term for using strategic theatrics and mischief to win a fight.
During the livestream fans will hear directly from Fandom Forward's partners, The Equality Federation, about actions they can take online. There will be petition signing, social media campaigns, and materials to educate friends and family. The pirate activism won't just be limited to the internet, participants will be asked to pledge to take action to protect trans kids when state legislatures reconvene for their next legislative sessions. This will be important to fighting the wave of anti-queer violence currently directed by many elected officials around the country.
Participants in the livestream will include The Gay Pirate Podcast, fan creators Sarah Cummins, TJ Hurt, and Haley Martin as well as The Our Flag Means Death Fan Crew.
We asked Fandom Forward's Co-Managing Director, Katie Bowers, about the vision behind their streaming event.
"The OFMD fandom is particularly primed for activism for a few reasons. One, the show itself is deeply progressive and imaginative. Characters of diverse races, backgrounds, and sexualities all form the family of the Revenge in a way that, to the characters in the show, seems normal and unremarkable."