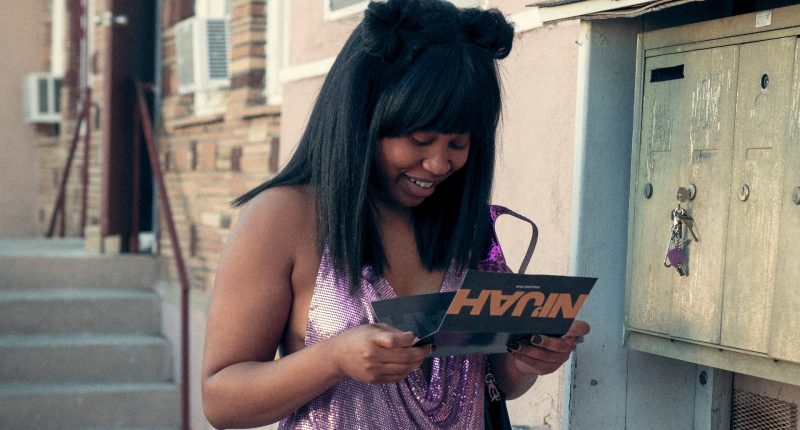 Though set in a heightened fictional world that only occasionally resembles our own, each episode of Swarm begins with a curious statement that promises veracity. While some shows that lightly touch upon real events are careful to offer a disclaimer that this is all a work of fiction, Swarm's disclaimer is more of a "claimer." The text that runs before the beginning of each Swarm episode reads "This is not a work of fiction. Any similarity to actual persons , living or dead, or actual events, is intentional."
According to Nabers, that claimer text isn't just a creative flourish but a sincere promise. The show's writing staff (which includes Nabers, Glover, Glover's brother Stephen, and Malia Obama) spent six months researching real life events involving obsessive standom and true crime before inserting their lead character, Dre, into them.
"We start with the saying 'this is not a work of fiction,' which is true," Nabers says. "When you're looking at the seven episodes that span a two and a half year period, we are basically showing things that have existed on the internet as stories or news stories and then we put our main character in the middle of all of that."
Each of Swarm's seven episodes includes a largely self-contained story of fandom gone awry so viewers can go on their own online scavenger hunt to find the source of inspiration. In terms of episode one "Stung," Nabers confirmed to PopBuzz that the story was based on a rumor of a woman named Marissa Jackson who committed suicide upon seeing Beyoncé's visual album "Lemonade" because it confirmed that Jay-Z had cheated on her.
Combining these real life tales and rumors into a darkly comedic horror parable creates for satisfyingly surreal television, which is the sweet spot for the creatives behind Swarm. Glover and Nabers' previous work on Atlanta (particularly the horror heavy Atlanta season 3 in which Nabers penned an episode) has consistently been affectionately labeled as surreal. And it's a label that Nabers embraces with this show.
"As a Black woman approaching any story, I think America has projected an idea of Blackness onto storytelling so there's a formula people are used to watching," she says. "Subverting a narrative, subverting a character, thinking outside the box, adding a surrealistic element to a story is always more powerful and elevated in my opinion. Atlanta set that tone. I think this show will be setting that tone more in the space of horror."