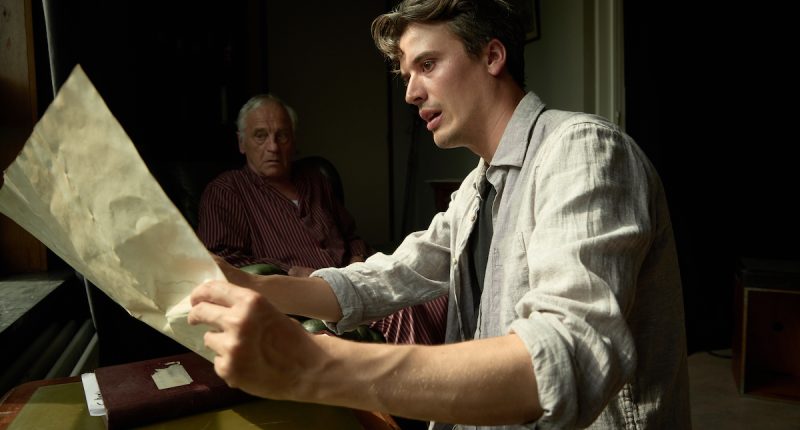 At first the house seems idyllic but as Mattias sinks deeper into his father's history and his own the house grows menacing. 
The house itself is of significance. Pol and Mattias' mother, Michelle (Lize Feryn) were happy in the house until their baby (Mattias) was born. Pol says he built her a pond (more like a lake in this case) as she constantly asked for one. After her death, though, Pol and Mattias were stuck in the house alone which, according to the town's people, didn't do them any good at all. The factory's tunnels also appear to lead right into the house, linking Pol, the factory, the pond and the tragedies that defined his life. In moving back there Mattias is drawn into those tragedies too.
What happened to Mattias' mother, Michelle?
She drowned. This we see in the opening scenes of the film. What we don't learn till later is that she was trying to drown both herself and her baby. Michelle was suffering with post-partum psychosis, which made her extremely depressed and paranoid but Pol had insisted that she was ok. When she walks out to the pond to end her life and that of the baby, Pol chased after them both, saved Mattias but was unable to save Michelle.
What's wrong with Mattias?
Mattias becomes intolerant to noise, obsessed with putrefaction, paranoid, volatile and experiences hallucinations. It is the house? Is it the stress of his and his fathers' past? Or could it be hereditary?
Michelle's condition is listed as being hereditary but was triggered by having Mattias. Is it possible that what Mattias is currently experiencing is his own version of post-partum psychosis? It's a disorder mostly found in women but post-partum psychosis in males is not unheard of. Certainly Mattias is displaying similar symptoms to the ones his mother was described as having. 
Then there's the life-long trauma of the implicit blame his father places on him for the death of Michelle, and the fact that he was a cold and difficult parent who Mattias was never able to please, he rather had the odds stacked against him.