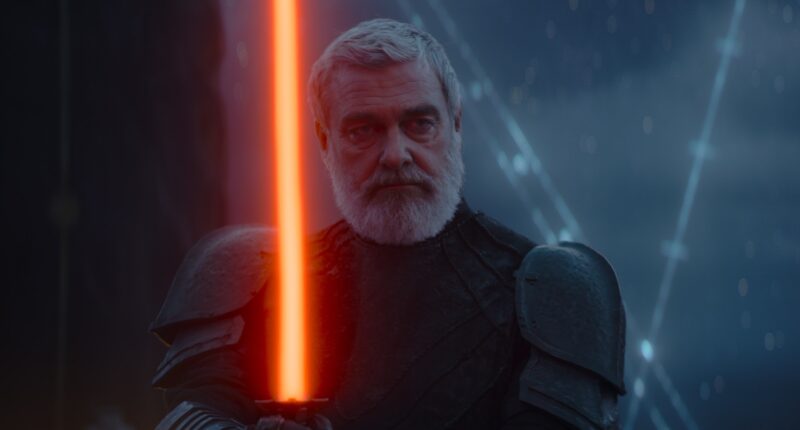 There has been a lot of speculation around the late Ray Stevenson's character in Ahsoka, especially after the first trailer introduced Baylan Skoll and his apprentice Shin Hati (Ivanna Sakhno) with their unique orange-red lightsabers. Even though Skoll clearly fights with Ahsoka at some point based on the trailer, it's been unclear if his allegiances lie with the remnants of the Empire, himself, or another entity entirely. 
IGN has been among those to speculate that Skoll is or once was an Inquisitor working for the Empire given his Force capabilities and the remnants of red hue in his lightsaber. It's a valid theory given the recent image from Ahsoka featuring a masked Inquisitor and the fact that Empire magazine recently revealed that Skoll is a survivor of Order 66.
However, Empire (via Collider) has also confirmed that, after the traumatic events of Order 66, Skoll used his skills to become a mercenary, not an Inquisitor. He was eventually hired by Grand Admiral Thrawn as an enforcer, leading him to become one of Thrawn's most trusted allies. In the aftermath of Thrawn's disappearance and the fall of the Empire, Skoll's current goals include "roaming the galaxy and ensuring order [is] followed in the way that the fallen Empire would have wanted it to be," according to the magazine.
As a survivor of Order 66, Skoll could have easily become an Inquisitor as Obi-Wan Kenobi's Reva (Moses Ingram) did, but according to Stevenson, Skoll doesn't seem to harbor as much anger or resentment as many of the Jedi-turned-Inquisitors do. Stevenson told Empire that his character "is not genocidal or malicious or overly aggressive. He will request that you get out of his way. But if you don't, he will take you out [of] his way."