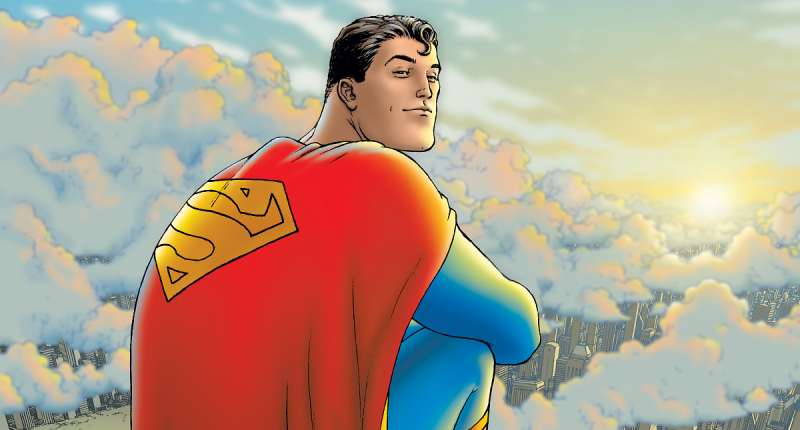 Other than that, all we know so far is the official line, which is that it will "focus on Superman balancing his Kryptonian heritage with his human upbringing," but it does sound like they're going for a take on the Man of Steel's characterization refreshingly free of cynicism.
"Superman represents truth, justice, and the American way," Safran said. "He is kindness in a world that thinks of kindness as old-fashioned."
To hammer home the size of this Superman's heart, Gunn cited one of the most beloved DC stories of the 21st century as one of the inspirations for his take on the Man of Steel, Grant Morrison and Frank Quitely's All-Star Superman, a modern masterpiece that featured an almost all-powerful version of the character, tempered with an even more powerful empathy.
"I really love the idea of Superman," Gunn said. "He's a big ol' galoot. He's a farm boy from Kansas who is very idealistic. His greatest weakness is that he'll never kill anybody. He doesn't want to hurt a living soul. I liked that sort of innate goodness about Superman as his defining characteristic. It's not All-Star Superman, but I'm a huge fan of All-Star Superman, and it's very inspired by it."
No casting has yet been announced (although, with that July 2025 release date, we expect those discussions to begin heating up pretty soon). One thing is for certain: Henry Cavill won't be the one wearing the cape this time around. But Gunn was quick to clarify, "Henry Cavill was not fired. He just was not hired to be [in Superman: Legacy]."
Details on Supergirl: Woman of Tomorrow are a little more thin at this time, but it does share a title with Tom King and Bilquis Elvy's brilliant Eisner-nominated limited series, which took Kara and Krypto into space for a wild, almost psychedelic adventure. Gunn revealed that King, one of the most decorated comics writers of the last few years, has been helping conceptualize elements of the new DCU, as well.