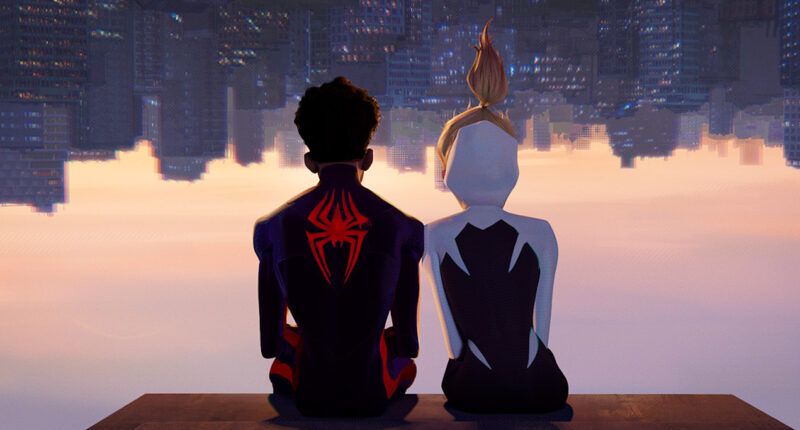 And this time it's told from two distinct perspectives. Because in the case of the young lovebirds beneath the Williamsburg dome, they're both Spider-Man… or, well, Spider-People.
Indeed, Across the Spider-Verse begins not with Miles' story but that of Steinfeld's Spider-Gwen. Sent home to her own parallel universe at the end of the last movie, Gwen Stacy commandeers the voiceover narration at the top of Across to explain what she's been up to since a gang of Spider-folk (plus a cartoon pig) saved the multiverse in 2018. Being the only Spider-person in her universe leaves Gwen feeling isolated and lonely—alienated from even her own father Capt. Stacy (Shea Whigham). So when she discovers other Spider-people are now traversing the multiverse with homemade technology, including the stoic Miguel O'Hara (Oscar Isaac) and the maternal Jessica Drew (Issa Rae), Gwen jumps at the chance to join them in a veritable HQ filled with Spider-Men, women, and even a Spider-T-Rex.
The only person not invited, it would seem, is Moore's Miles Morales, who's grown a year older since the last movie but only faintly wiser. A little too smug by half as he battles his new villain of the week, the Spot (Jason Schwartzman), Miles doesn't have enough time to even show up for his college counseling appointment, disappointing his parents Jeff (Brian Tyree Henry) and Rio (Luna Lauren Velez). And when he misses Jeff's birthday party, he finds himself outright grounded.
So you can imagine how exciting it must be that his crush, Spider-Gwen, shows up in his dimension again, although she is vague now about why Isaac's laconic Miguel has allowed her to come back to the one universe the older spider-genius hates. Her arrival, however, offers a chance for Miles to dive across the multiverse and see how weird things can really get. Remember, there is now a Spider-T-Rex.
There is plenty more to the plot, but in all honesty one of the great strengths of Across the Spider-Verse is that despite the gargantuan scope of the screenplay penned by Phil Lord, Christopher Miller, and Dave Callaham (with Lord and Miller remaining as producers), the plot is far less important to the emotional authenticity of the piece and its groundbreaking innovations in American animation.
The film sincerely captures the adolescent experience in a way none of the live-action Spidey films do, with more than an hour spent developing Miles' fraying relationship with his parents and their less than impressed understanding of this Gwen gal who showed up in his room out of nowhere. The scenes do not feel like expository table-setting either. In the same way Lord and Miller made unlikely concepts like a 21 Jump Street comedy or The Lego Movie sing, the pair of filmmakers continue their knack for fast-paced wit and sharp characterization in this screenplay, finding as much amusement in the prospect of the bilingual Miles getting a B in Spanish, much to his madre's seething dismay, as it does in the action.