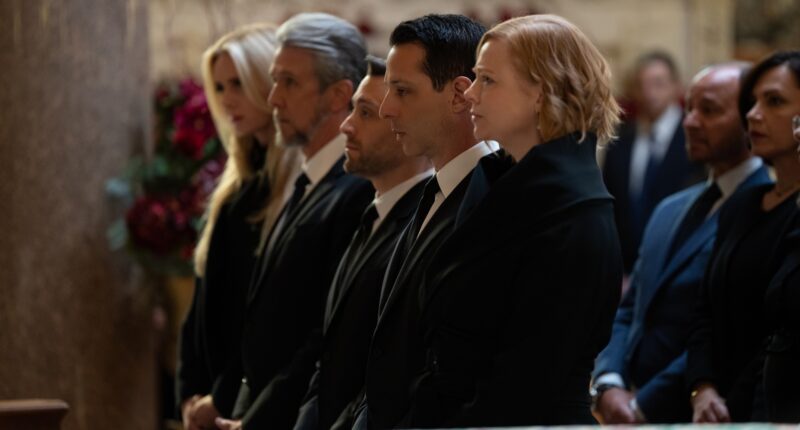 In episode 9, Shiv tried to position herself as the ultimate winner, telling Matsson that he could get into bed with the future President of the United States by offering up Jeryd Mencken (Justin Kirk) an American CEO. Shiv claims she's the ideal candidate as the suave Swede's "puppet," and just before the episode ends, Matsson phones her to seemingly agree to the idea. However, eagle-eyed fans have noticed that Matsson appears to be travelling with someone else. 
When Matsson says "I think I can make a US CEO work," Twitterverse exploded with theories that there's someone with him off-screen. It definitely looks like Matsson glanced to the side, and while it could simply be nothing, others are convinced Greg was sat opposite him. One fan wrote, "Anyone else thinking #greg was sitting across from #matsson in the limo when he said "I can make an American CEO work." #Succession." Another predicted, "Matsson gets the deal, betrays Shiv and puts Greg as CEO."
It's true that Greg is wildly underqualified for the job of Waystar Royco CEO, but it would be a twist for the ages if the downtrodden lapdog of Tom Wambsgans (Matthew Macfadyen) turned out to be the victor. It's clear Matsson wants someone he can easily mold, and alongside having bonded with Gregory Peggory through a night of drinking things that shouldn't be drunk, it's likely the information Greg has been feeding the likes of Kendall and Tom has been going both ways back to Matsson.
Someone else noticed that in one of the Succession season 4 posters, Greg's reflection is the only one we see face-on – suggesting that his role as CEO has been in front of our faces this entire time. We know the posters are packed with Easter eggs, just like the reflection of a plane foreshadowing Logan's mile-high death. Short of Connor Roy (Alan Ruck) being announced out of nowhere, seeing Greg crowned CEO would arguably be the biggest shocker. 
Succession Has Been Laying Greg Clues for Awhile
It's not just Shiv who needs to watch her back. Others have theorized how Greg can take down all his cousins in one fell swoop. The ghosts of the past could come back to haunt Kendall, with his cover-up of the waiter who died back in season 1 being a potential plot point for the finale. Although Andrew "Doddy" Dodds isn't directly mentioned, we see Kendall trying to bring Colin the bodyguard back to his side.
Colin (Scott Nicholson) was Logan's loyal confidante and helped the Roys (literally) bury the story. Kendall is concerned that Colin is talking to a shrink, offering him a job to presumably make sure he doesn't blab. With Logan in the ground, that's one less person who knows his dark secret, but as u/ares502 posits on Reddit, Greg spent the night before Shiv and Tom's wedding with Doddy. The next day, Greg made a flippant comment about the waiter being on drugs (alluding that he knew Kendall shared drugs with Dodds), and if you jump ahead to season 3, Greg compared Kendall to OJ Simpson. This prompted Kendall's now-iconic, "Who said I never killed anyone?"