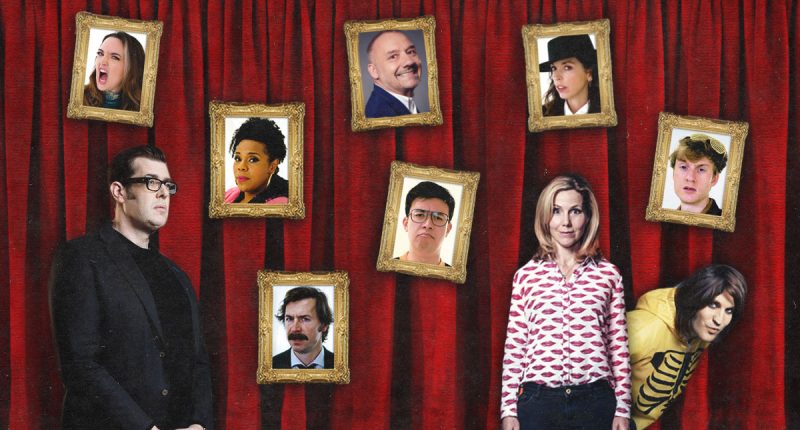 4. Noel Fielding (Series 4)
Series 4 was such an exceptional cast that we've got two of its contestants in the top 5, and Noel Fielding really had all the ingredients to make him a Taskmaster legend. He's smart – surprising even Greg when he successfully camouflaged himself as a banana. He's creative, winning not one but all three of the series' portrait-related tasks, including a gallery-worthy painting of Greg Davies. 
Fielding is mischievous, using Alex Horne as the filling in his 'make an exotic sandwich' task, and then – when he discovers the next task is to eat said sandwich – committing fully enough to cut off and consume some of Alex's beard hairs. And lastly, he's got the earnest wholesomeness of a child, choosing to read out tasks after climbing up on a table or putting a silly bowl on his head, and describing the ringtone he chooses to choreograph a dance to as 'cheeky, like baby dinosaurs'. A king among men.
3. Mike Wozniak (Series 11)
Never before or since on Taskmaster has a contestant combined such sleek athleticism with such lovely manners. Mike Wozniak was almost even too polite to pass wind despite memorably having been assigned it as a solo task ("Fart. Fartest wins"). Not one to shirk his duties however, he did eventually produce the required flatus (his word) along with a little… bonus.
Piloting a hoverboard, hopping around an airfield with his legs taped together, vaulting the garden fence to retrieve an errant balloon, or snapping a marshmallow with a pair of tongs… Mike Wozniak never failed to put on a fine display. Especially when it came to his series finale makeover surprise. And what you really can't take away from the man is that he had an absolutely lovely day. 
2. Mel Giedroyc (Series 4)
Her relentless positivity in the face of every task, every twist, every mishap makes Mel Giedroyc a true Taskmaster gem. Despite her adorable naivety getting her into hot water – like her toddler-level attempt at camouflaging herself (visibly hiding in a corner), and not realising just how awful she was at knocking ducks off a fence – she also performed surprisingly well at times. Most notably, her triumphant interpretation of 'Get this camel through the smallest gap' saw her, the cuddly camel and Alex with his stopwatch all racing through London in the back of a cab, reaching the smallest branch of GAP with just seconds to spare.
But for Mel, it's clearly not the winning, but the taking part that counts – she's equally as upbeat doing well at a task as she is failing spectacularly, like when she discovers the cruel surprise that after creating a gargantuan chocolate-filled 'exotic' sandwich for one task, her next task is to try and eat it. She tries, she fails, and she has tons of fun in the process. As do we.