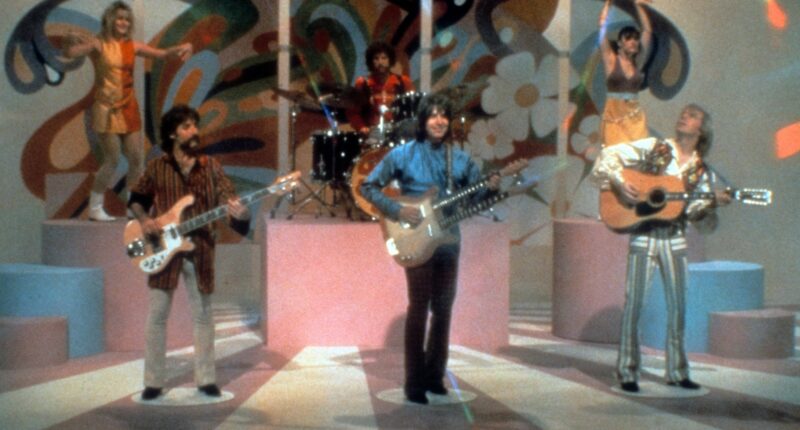 Wyld Stallyns, Bill and Ted's Excellent Adventure (1989)
Wyld Stallyns is the greatest band of all time. At least, that's what time traveler Rufus (George Carlin) tells us at the start of Bill and Ted's Excellent Adventure, the buddy comedy from writers Chris Matheson and Ed Solomon. Sure, director Stephen Herek doesn't show us the musical talents of Bill S. Preston, Esq. (Alex Winter) and Ted "Theodore" Logan (Keanu Reeves), nor does Bill and Ted Face the Music director Dean Parisot when the group finally debuts its humanity-saving song "Face the Music." 
But that's part of the fun of the Bill and Ted series. They may look like a couple of idiots thrashing on the guitar, but their constant optimism and acceptance (that one slur aside) gives hope for the future. Well, that and Eddie Van Halen on guitar…
NWH, Fear of a Black Hat (1993)
By the 1990s, hip hop had supplanted rock and roll as pop music's reigning genre, which made it ripe for a Spinal Tap-like skewering. That skewering came in the form of Tales from the Hood director Rusty Cundieff and the mockumentary Fear of a Black Hat. Told through the perspective of sociology grad student Nina Blackburn (Kasi Lemmons), Fear of the Black Hat follows the up-and-coming gangsta rap group NWH (an NWA riff, with "hats" replacing "attitude"). 
Cundieff takes a Mad Magazine approach to the subject matter, giving NWH members silly soundalike names: Ice Cold (Cundieff), Tasty Taste (Larry B. Scott), and Tone Def (Mark Christopher Lawrence). But as with all the best satire films, Cundieff approaches his subject from a place of love, as seen in songs such as "Ice Froggy Frog" and the rap/rock mashup "White Cops on Dope," songs made with the help of George Clinton and his P-Funk collaborators as well as Cars frontman Ric Ocasek. 
The Wonders, That Thing You Do! (1996)
Within the world of Tom Hanks's debut film That Thing You Do!, The Wonders were one-hit wonders, a quartet of nice Pennsylvania Boys who rode Beatlemania to a number-one single and dissipated before they could even record their first record. Hanks sells the tragedy of The Wonders' rise and immediate fall by hiring the late great Adam Schlesinger to pen the title track. 
"That Thing You Do" sounds like an authentic pop song from the early '60s, one that remains strong enough to stay interesting each time it's performed throughout the film and became a hit song on the real world charts, reaching #41 on the Billboard 100 in 1996. And even if "That Thing You Do" doesn't do it for you, then the soundtrack has several other great Wonders tracks, including the ballad "All My Only Dreams" and rocker "Dance With Me Tonight," both by Scott Rogness and Rick Elias.