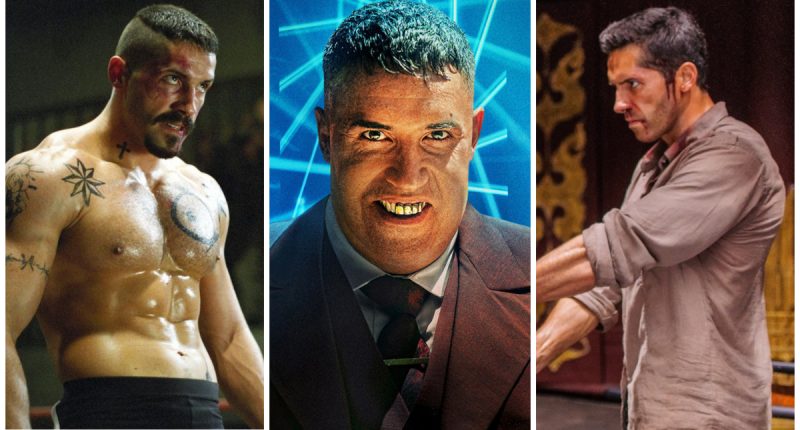 Savage Dog (2017)  
Savage Dog is another somewhat hackneyed underground death match flick, the sort that's so ubiquitous in the martial arts movie genre. However, the film populates the pack with leading action stars and the martial arts genre is seldom where you look for great plots. Set in Indochina after World War II, Adkins plays Martin Tillman, a former boxing champion who joined the French Foreign Legion to escape persecution but got sent to prison for assault. That's right. This is another boxing-champion-in-prison film like the Undisputed franchise. What's more, it's the rematch of Adkins versus Zaror, as seen in Undisputed 3. Zaror plays the crime boss rival boxer Rastignac. Filling out the pack are martial actress JuJu Chan and former MMA champion Cung Le. 
The dialogue is steroid-ically stilted, so much so that the film resorts to a narrator. It's all about the fights. Adkins, Zaror, and Le can all sell a punch. It looks like they are really hitting each other, perhaps not at full force, but hard enough to hurt. And Savage Dog eschews the cinematic trend towards CGI blood splatter.
This film has old school pumping blood spurting, so much that it's almost Monty Python's Black Knight levels of absurd. It should've been called Sanguineous Dog. There's amputation, decapitation, arterial gushers, and a tiny bit of cannibalism. It's gritty fighting in jungle mud pits. There are knife fights, machete fights, shotguns, machine guns, grenades, and some excellent martial arts battles. Where the story fails, the action provides a nice fix for action junkies.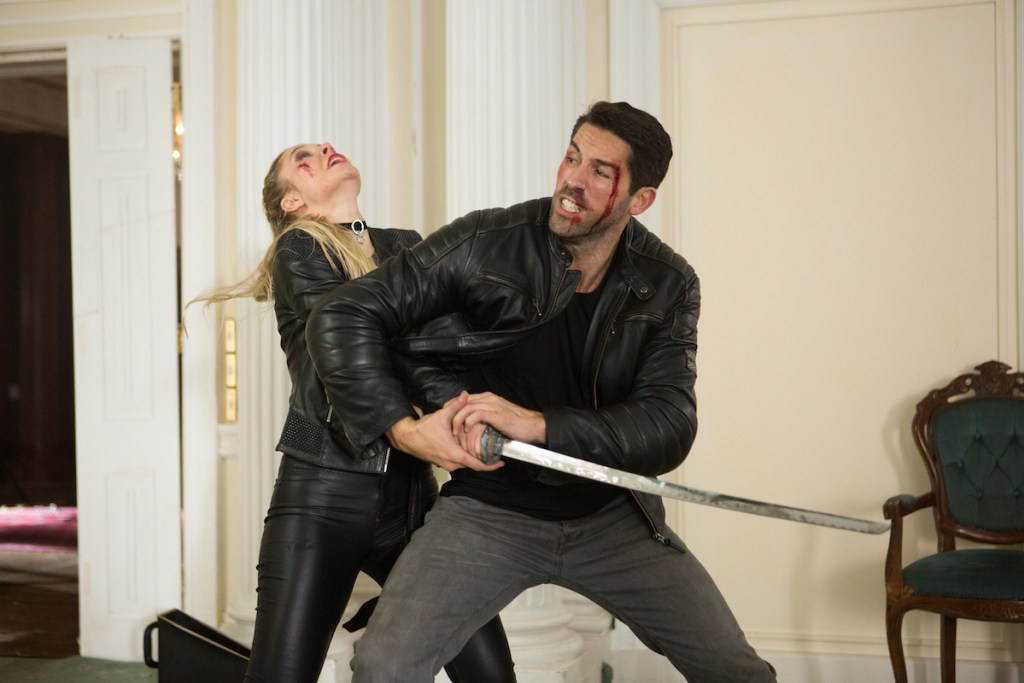 Accident Man (2018)
Based on a British comic, Accident Man is like the poor man's John Wick. Instead of the posh Continental, the assassin gang meet at a local pub. And instead of classy, tailored suits, it's common blokes in casual wear. Adkins plays Mike Fallon, a leather-clad biker hitman who always makes it look like an accident. It's a nod and wink, tongue in cheek, black comedy with a healthy dollop of British sass. It's sanguineous, and it's got bollocks. 
Adkins stacks the deck with some top-notch martial adversaries like fight queen Amy Johnston and Sith Lord Ray Park, plus there's a rematch between Adkins and Michael Jai White. The fight scenes vacillate between copiously expanding pools of blood and kinetic combat with dozens of complex moves per single shot. The shaky-cam cinematography is done right so it accentuates the action instead of obscuring it. The fight sequences are the centerpieces, surrounded by a good sense of humor. 
Accident Man: Hitman's Holiday (2022) is a true sequel that picks up shortly after the previous film ended. Fallon is tasked with protecting an entitled brat kid of a crime boss, and ultraviolent hilarity ensues. Send in the clowns. Seriously. One of the hitmen that Fallon must faces is a mad clown with a hammer that has a cinder block for a head.