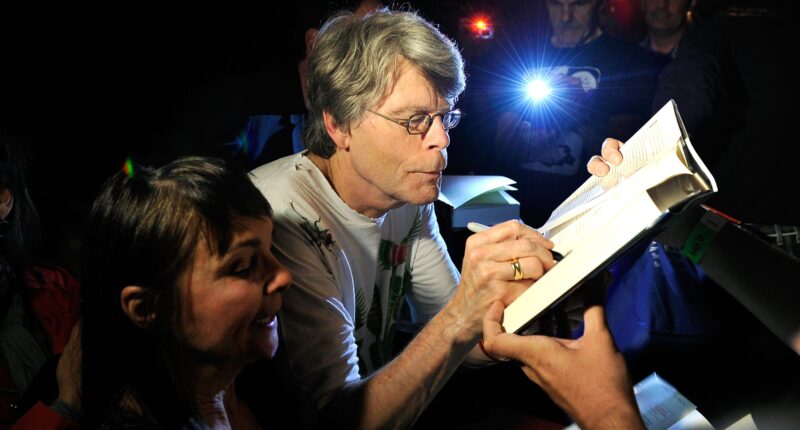 The Library Policeman (1990)
King's second collection of novellas, Four Past Midnight, features two stories that have already been before the cameras: "The Langoliers" (filmed as a 1995 miniseries for ABC) and "Secret Window, Secret Garden" (adapted for the big screen in 2004 by writer/director David Koepp, starring Johnny Depp). But the book's secret weapon is its third (and centerpiece) story, a thoroughly chilling tale involving childhood terrors, repressed trauma, and a creature (like Pennywise in It) that feeds on kids' fear.
The title apparition is a grim figure indeed, especially when one learns about its connection to the past of the story's protagonist, Sam. As with many of King's tales, there are layers to this story that a skilled writer and director could bring out without simply turning it into a creature feature. And there's always something about those library stacks that's both thrilling and creepy. "The Library Policeman" has slipped into relative obscurity now, but it's worth rediscovering.
Everything's Eventual (1997)
"Everything's Eventual" is such a good tale that King named his fourth collection of short stories after it. Richard "Dinky" Earnshaw is a blissfully ignorant teenager who is living a bro-dude's dream life: he has his own house, a car, a weekly cash allowance (which he has to get rid of by the end of the week), and basically gets anything he wants—even new music that hasn't been released to the public yet (amusingly, he gets it on CDs, but the story was written 26 years ago).
All Dinky has to do is make these weird drawings and email them to people—"bad" people targeted for death by the organization that employs him. Dinky, you see, is a "breaker" (which connects this to the Dark Tower cycle, although that can easily be sidestepped for a movie) and his abstract drawings affect people's minds in ways that drive them to kill themselves. But when Dinky discovers that the people he's sending his pictures to aren't necessarily "bad" (unless you consider speaking out against the government "bad") he realizes that he's being used for more nefarious purposes than he suspected.
This one seems like a no-brainer to us. Sure, you would have to expand the parameters of the story a bit and get Dinky out of the house more, but the premise and execution are so much macabre fun that this would probably make for an eerily effective, and perhaps slightly satirical, night at the movies.
N. (2008)
Found in Just After Sunset, King's fifth collection of short fiction, "N." is an especially creepy tale—and potentially a difficult one to adapt, since it's structured as a story within a story. But the narrative at the center is damn good, centering around a circle of stones in a Maine field that is (you guessed it) one of King's famous "thin" spots that leads to a horrifying other universe. Anyone who views the stones comes under their influence, which manifests itself as a sort of OCD on steroids that eventually drives the victim to insanity and death.