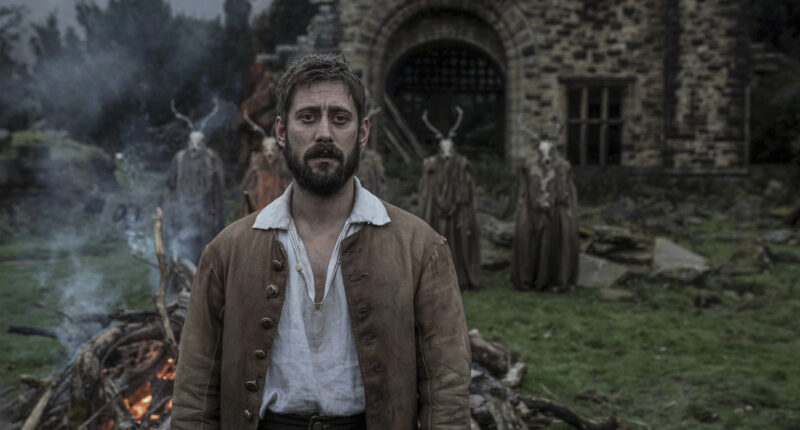 Inspired by Benjamin Myers' Novel
That last part isn't told in Meadows' TV drama, perhaps with the idea of later finishing the tale in a second series. Though first announced as an adaptation of Benjamin Myers' acclaimed, gristly, weird 2017 novel of the same name, Meadows' improvisational approach changed the series into a book prequel. Rather than show central character David Hartley running the coining operation once considered the biggest fraud committed in British history, The Gallows Pole shows his journey from small-time crook to community-minded forger. 
Myers' book goes further into history, following David's rise and eventual fall, and the fates of his brothers William and Isaac – nicknamed the Dukes of Edinburgh and York to their older brother's "King" David.
At a screening Q&A for The Gallows Pole, Meadows remembered warning Myers, "I never do anything how it's meant to be." The raucous, semi-improvised, modern-feeling, comedic result is certainly not how historical dramas have been in the past but is perhaps how they are meant to be – using naturalism and laughter to bash down the walls between us and the past. 
The Real David Hartley and the Cragg Vale Coiners
David Hartley was the head of the Cragg Vale Coiners, a gang of 18th century Yorkshire forgers who produced an estimated £3.5 million of illegal coins – the equivalent of over £650 million today. With his brothers and a group of locals, Hartley "clipped" legitimate coins around their perimeter, filed those down, and then melted, shaped and stamped the result using a counterfeit die, and sent them into circulation. The coiners operated out of the Hartleys' family home Bell House, a moorland-edging farmhouse and barn overlooking the valley.
During the 1760s, the gang was so prolific it was thought to have diminished the value of UK currency by 9%, an amount that seriously threatened to destabilize the British economy at a time when the national mint failed to meet the needs of rising commerce, which required a greater flow of coins in small denominations. The Cragg Vale Coiners produced a great many Portuguese coins, which were accepted as legal tender in England at the time.
David Hartley remains a controversial figure, considered by some a Robin Hood-style hero who rebelled against the Crown to save his community from famine, and by others a criminal gang leader with blood on his hands. A 1775-set epilogue in Myers' novel outlines his mixed reputation, as Hartley's eldest son recalls: