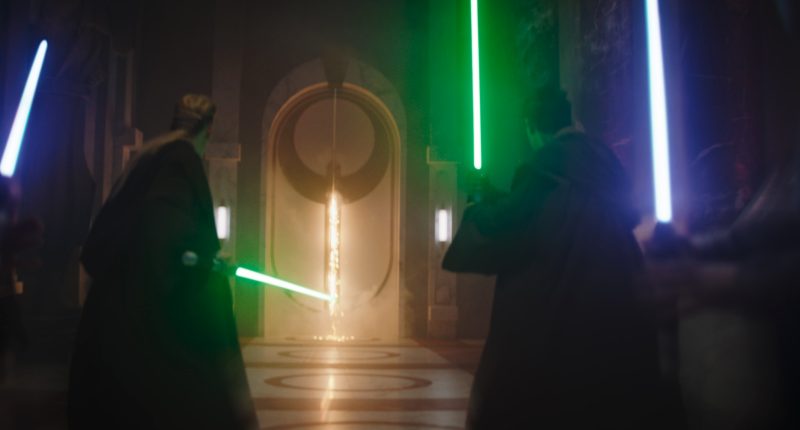 Best's comeback in recent years is part of a bigger reevaluation of his work in the Prequels. In the decades since his debut in 1999's The Phantom Menace, Best has spoken out about the backlash and often racist abuse and harassment he faced at the hands of older Star Wars fans who hated Jar Jar Binks. But these days, Best's performances are remembered much more fondly by the adults who actually grew up watching these movies in the early 2000s. Today, you're much more likely to hear cheers for Best at Star Wars conventions than jokes or insults. As it should be!
"I never thought that I would be asked back, to be honest," Best told StarWars.com about his new role as Kelleran Beq in 2020. "I was very pleasantly surprised. What really made me say yes was the fact that this was breaking new ground in the Star Wars universe…I think what's the most important about the representation of someone like Kelleran Beq as far as being a person of color and the leader of this Temple — kind of like the Dean of Jedi — is it breaks down what's possible."
Beq was a character Best helped craft himself as an homage to Mace Windu, Obi-Wan Kenobi, Yoda, and the Shaolin monks from his favorite Kung Fu movies: "This is the first Jedi that we've seen that is dedicated to just teaching," Best said at the time. "And I wanted to pay homage to some Jedi of the past. There's a mentorship that Obi-Wan Kenobi has and that Yoda has that are very much a nurturing kind of mentorship and I wanted to see if I could capture that nurturing sense."
Another fun fact about Kelleran: he may have a relative we've met before in the Prequels. According to the actor's headcanon, Achk Med-Beq from Attack of the Clones, a cameo character he played as himself and not in motion capture, is somehow related to Master Beq, although there's no official lore supporting this. Whatever the case, the Jedi Master's name is another fun nod to Best's many contributions to the saga.
Although the game show ran only for a 10-episode first season, Kelleran Beq's jump into Star Wars canon for The Mandalorian is a no-brainer. The lore of Jedi Temple Challenge established Beq as an important mentor to the students learning the ways of the Jedi, someone who tutors and guides younglings and Padawans on the path to Knighthood. It makes a lot of sense that he would become the protector of Grogu and any other young Jedi trying to escape Order 66, especially when you also factor in Kelleran's skills with lightsabers. Known as "The Sabered Hand" by others in the Jedi Order, Kelleran is a master duelist to the point where he can wield two blades in combat. We watch as he uses his two lightsabers in "The Foundling" to take down the clone troopers trying to kill a defenseless Grogu. By the end of the flashback, Kelleran and Grogu have commandeered a ship and zipped off Coruscant, jumping into hyperspace to parts unknown.
After the premiere of the episode, Best wrote a message to fans over Instagram: "Gratitude! Good to be back. There is so much to say and share. It's going to take a couple of days. But, for now, I'll just say thank you all that have held me up and made me better."