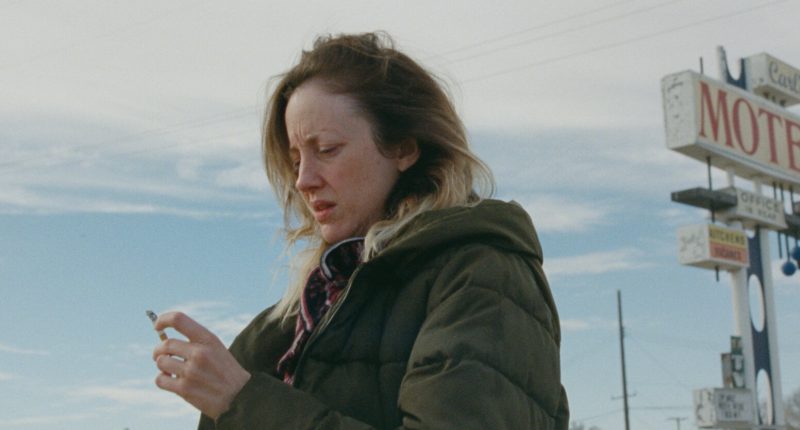 That's arguably what happened to Leslie (Riseborough), a single mother living in West Texas who wins a small fortune of $130,000 in the lottery. She thinks the money will change her life, and it does—allowing her to unleash her worst demons as it completely vanishes in a handful of years. When the movie picks up, her son is gone and has no interest in talking to her, and Leslie spends most nights staring down the bottom of the bottle and addiction. Perhaps, though, there is redemption if she can ever look up.
So To Leslie is an intimate character study of one woman's pain and dignity after enjoying (and enduring?) an extraordinary life event. It is also a showcase for its acting, particularly Riseborough who wowed the critics who did see the movie with a multilayered portrait of despair and desperation. The movie also featured significant turns from Allison Janney (who won an Oscar for I, Tonya) and Marc Maron (GLOW).
Why the Oscar Nomination Was a Surprise
As aforementioned, To Leslie premiered at SXSW last March, but since then it's been seen by an intimately small audience—and that includes critics and many awards groups. Despite playing at a series of other festivals, the film received a straight to PVOD release date in October to accompany its extremely limited release in a handful of theaters. Distributed by indie Momentum Pictures, To Leslie received praise from the critics who saw the film (it currently sits at 97 percent fresh reviews on Rotten Tomatoes based on 59 aggregated reviews), but otherwise did not find a major audience.
This includes many awards groups. Films and performances are traditionally championed by organized campaigns masterminded by publicists working either for a film's studio or an independent PR firm that was hired by the studio and/or producers to pay minute attention to the rules and details governing each awards body. This helps create the current ecosystem of awards shows and events, and the all the voting therein. It also is a system that allows smaller movies—with financial support—to find awards groups who might've missed them earlier in the year. This is achieved by campaigns sharing screeners with voters, holding press screenings for guilds and associations in major cities, and even the infamous Q&As and parties wherein awards hopefuls are able to spend a little face time with voters—including most especially members of the Academy.
And generally speaking, given the relative obscurity with which To Leslie was released, the film had little to no organized campaign effort until late in the season (more on that below). Which is not to say it was totally ignored. Indeed, Riseborough previously received a nomination for the Independent Spirit Awards which celebrates the type of indies that are usually off the Academy's more-Hollywood centric radar. However, anecdotally, I know that members of many critics groups who receive most of their screeners in November or December reportedly did not receive one for To Leslie, and as a member of several critics groups, I am aware of only one screening invitation in December… that was connected to a festival occurring hundreds of miles outside the city where I live.
 Why There Is Drama About Riseborough's Nomination
At the moment, there is no public evidence of rule-breaking or actual impropriety on the part of anyone associated with To Leslie, which resulted in Andrea Riseborough being nominated for Best Actress. But due to optics around the film's grassroots support among members of the Academy (mostly from its actors' wing), many observers have cried foul that Riseborough's nomination is probably at the expense of two Black performers, namely Danielle Deadwyler who many (myself included) assumed was locked-in for a nomination after seeing Till, as well as Viola Davis for her work in The Woman King.