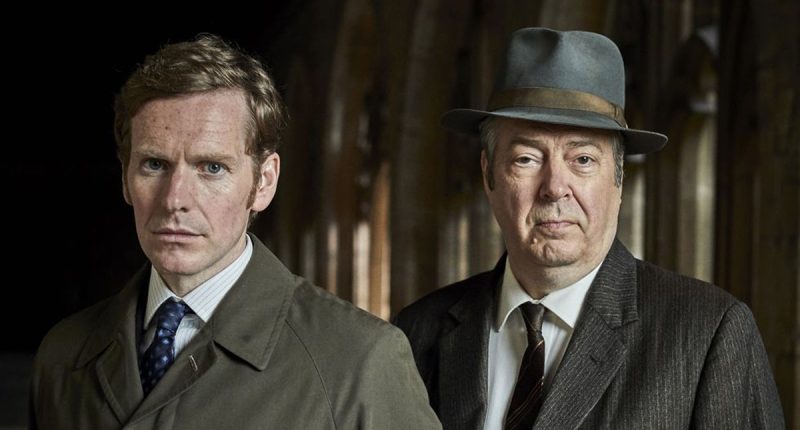 Roger Allam – Frank and Percy with Sir Ian McKellen, Robert Maxwell in Tetris
Look out for Roger Allam in new film Tetris, which charts the creation and rights battles of the legendary puzzle game, and is available to stream on Apple TV+ from March 31st. Allam stars as Czechoslovakian-born publishing tycoon Robert Maxwell, the newspaper bigwig who played a part in the intellectual property war surrounding Tetris before finding infamy following his 1991 death, when he was found drowned off the yacht named for his daughter Ghislaine Maxwell. Allam stars alongside Rocketman's Taron Egerton, Detectorists' Toby Jones and many more in the film.
Come summer, Endeavour fans can see Allam alongside Sir Ian McKellen in new comedy play Frank and Percy, which premieres at the Theatre Royal Windsor on June 9th before moving to the Theatre Royal in Bath from July 25th to August 5th. It's the story of an unexpected relationship blossoming between two men who meet when their dogs play together in the local park. Allam will play Frank, a widowed schoolteacher, and McKellen will play "somewhat radical elder statesman" Percy in the production, written by Ben Weatherill and directed by Sean Mathias.
Sara Vickers – Guilt Series 3
In April 2023, the third series of Neil Forsyth's dark Scottish crime comedy-drama Guilt will arrive on BBC iPlayer. Edinburgh-born Sara Vickers (who plays Joan Thursday in Endeavour) returns to the role of Erin, the daughter of local gangsters Roy and Maggie Lynch (played in Series 2 by Stuart Bowman and Phyllis Logan). In Guilt's second series, Erin is trying to maintain distance with her estranged father Roy, but an incident brings him back into her orbit.
Vickers appears alongside Mark Bonnar and Jamie Sives in Guilt Series 3. The four-episode series will be available to watch as a box-set on BBC iPlayer, as well as airing on the BBC.
Anton Lesser – Red Sky at Sunrise
Since filming Endeavour's final series, ACC Bright's Anton Lesser hasn't stopped, touring in stage play The Two Popes last autumn, playing Vernon Marley in BBC crime drama Better, taking a key role in Star Wars series Andor, and voicing a part in BBC Radio 4 and BBC Sounds series One Five Seven Years, for which he recently won a BBC Audio Drama award for Best Actor.
In 2023, fans can see Lesser in person playing the author Laurie Lee in a one-off concert 'Red Sky at Sunrise' at the Royal Shakespeare Theatre in Stratford-upon-Avon on Wednesday the 31st of May.