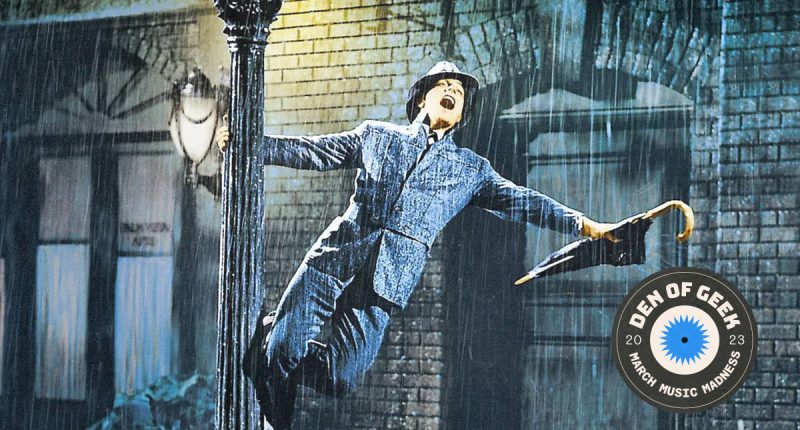 The making of Singin' in the Rain is the story of the right person making the right choice at every turn. Reynolds' sunny disposition as Kathy Selden, the fan whose dreams of breaking into the movie business come true, offers a buoyant complement to Kelly's typically starry-eyed screen persona getting slightly mocked by the film's setup; meanwhile Jean Hagen's Lina Lamont all but steals the movie as the villainous screen siren who turns out to have an accent from Canarsie by way of Hell, and a ruthless mean-streak that everyone around her underestimates at their own peril. And really, derivative though the song "Make 'Em Laugh" may be, the way Donald O'Connor sells it with physical comedy is impossible to resist—and extreme enough that the actor had to be hospitalized for several days after finishing the scene.
All contributed to building a great musical. What elevates it though is the ephemeral quality that the sum of their talents exudes when juxtaposed with a story self-aware about its historical revisionism. Like the audience, the film is actively attempting to escape into a happier, more ebullient alternative to its own reality, retelling the Hollywood story as if it could exist in a world as glittering and carefree as a golden age musical. It's like spending a few hours living inside the warmth of a snowglobe (only in Hollywoodland it never snows!).
It is with sweet affection that Singin' in the Rain finds humor in events that traumatized thousands of people in their industry, and which wrecked entire careers. Lina Lamont's inability to be properly recorded on a microphone during the shooting of the film-within-a-film, The Duelling Cavalier, is likely inspired by stories of how original "It Girl," Clara Bow, blew a microphone valve when she shouted "Hello, everybody!" on her first take of her first talkie, The Wild Party (1929). Singin' in the Rain also finds ways to lightly chuckle at the shameless inclusion of sounds in the earliest 1920s musicals, even as Singin' in the Rain is just as shamelessly indulging in technicolor excess.
Released at a moment when television was still viewed as an existential threat to the film industry, Singin' in the Rain uses a sequence like the "Beautiful  Girl" number—a demonstration of how the earliest musical revues paid little attention to things like narrative or character while trying to cram as many pretty faces and songs as possible into a running time—to also drown the screen in enough sequined colors to border on garish. But hey, you weren't going to see purples and greens like that on your 12-inch black and white TV at home in '52!
Curiously though, all of these elements, be it the pleasant reimagining of its own past or the concessions to the exact time in which it was made, add to the timeless quality of Singin' in the Rain rather than detract from it. They're accentuations of a film that takes to heart the original appeal of moving pictures, both during the silent era when it was a novelty across the street from the vaudeville, and during the early talkies released in a Depression that wiped vaudeville out.
Audiences want to see a spectacle that distracts from their worries, and by looking to its own past, Hollywood turned its previous woes into a light romantic comedy with a true sense of yearning. Its simplicity in this regard is also its advantage. Most of the "big" and popular musical epics that came afterward, be it in the 1960s or certainly today, tend to be massive adaptations of sprawling Broadway spectacles. Broadway shows due to their format, however, tend to run for close to three hours and increasingly drill down into a complexity that defies early musical daydreams.