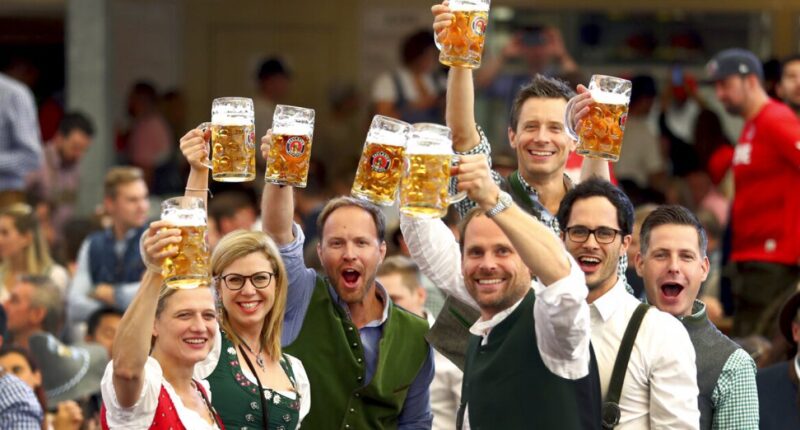 DENVER – Every weekend, Denver7 compiles a list of some fun events you might enjoy. Here are our picks for the 7 best things to do in the Denver metro area and beyond this weekend.
1. Pull out the lederhosen for the first weekend of Denver Oktoberfest
From keg bowling to stein hoisting, live music and more, there's something for Oktoberfest pro's and first-timers. Grab your stein, throw on your lederhosen and join the beginning of a two-weekend party which starts Friday. It's all happening at Larimer and 21st Street in the Ballpark District. More info. here.
2. Head to Boulder for a beloved celebration of fall
Fall Fest in Boulder, a three-day autumn festival which takes place in downtown's Pearl Street, features food, brews and music with the added excitement of seeing the little one's enjoy kids' activities and featuring the Firefly Handmade Market. The event is free of charge. For more info., click here.
3. Get in the spirit of the fall season at the Autumn Gold Festival in Estes Park
Autumn Gold is a festival of beer, brats and bands! Enjoy a freshly grilled brat with all the fixings plus a cold brew (or a glass of wine) while listening to five award-winning, Front Range (and globally acclaimed) bands. It's all happening at Bond Park this Saturday and Sunday starting at 11 a.m. More info. here.
4. Celebrate the spiciness of chiles at the Pueblo Chile and Frijoles Festival
Experience the taste of green chile in its many forms – smoking on a stick, chopped into a tortilla, or served as green salsa. Partake in cooking competitions, dancing, live music, arts and crafts and a farmers' markets. It's happening Friday-Sunday in Historic Downtown Pueblo. Ticket and information here.
5. Celebrate Hispanic culture at the Sazón Food Festival in Brighton
The Hispanic Restaurant Association is hosting a celebration of Hispanic culture this weekend with food trucks, drinks, music and live cooking demos at the Sazón Food Festival in Brighton. The festival is happening at Carmichael Park. For more info., click here.
6. Join the Second Wind Fund Walk/Run this weekend
What started as a small school community Walk/Run in support of our youth has grown into an important day of hope, love, and remembrance. Join Second Wind Fund during their 22nd annual run. Funds raised from this event will provide access to life-saving therapy for Colorado youth who need our support. More info. here.
7. giveSports Sporting Equipment Drive
A Precious Child and Kroenke Sports Charities are partnering on a sporting goods drive for kids in need this Saturday, Sept. 23 from 9 to 11:30 a.m. For more information, click here.
---
The Follow Up
What do you want Denver7 to follow up on? Is there a story, topic or issue you want us to revisit? Let us know with the contact form below.
xfbml : true, version : 'v2.9' }); }; (function(d, s, id){ var js, fjs = d.getElementsByTagName(s)[0]; if (d.getElementById(id)) {return;} js = d.createElement(s); js.id = id; js.src = "https://connect.facebook.net/en_US/sdk.js"; js.async = true; fjs.parentNode.insertBefore(js, fjs); }(document, 'script', 'facebook-jssdk'));