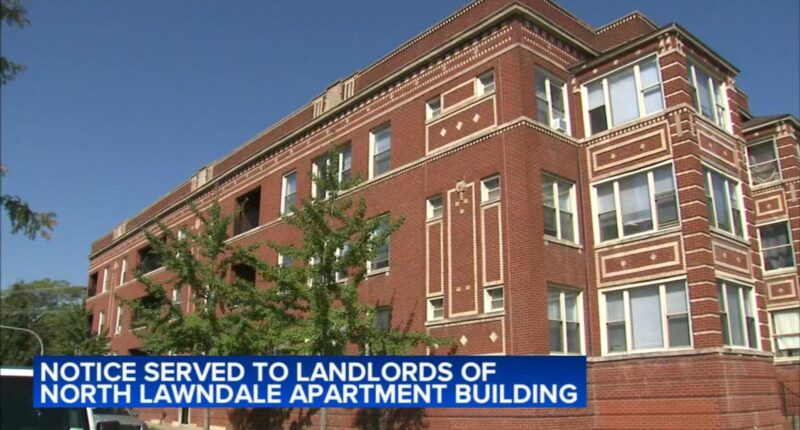 CHICAGO (WLS) — Faith-based leaders and local officials on Saturday joined tenants of a North Lawndale apartment building in an effort to expose what they say are uninhabitable conditions and predatory practices.
The group alleges out-of-state landlords are to blame.
"We are sick and tired, and we're not going to take it anymore," Greater Galilee Missionary Baptist Church Pastor Steve Spiller said.
Members of the North Lawndale neighborhood and elected representatives have been serving notice to landlords, demanding accountability.
"To turn people's gas off because you're not doing your part and lights and things of that nature – it's inhumane," Spiller said.
Spiller said he's seen it before. The pastor stood side-by-side with a member of his congregation, Aletha Wilson, on Saturday morning.
SEE ALSO | Small victory for housing advocates as Chicago Fire soccer training facility suit in federal court
"Rats was coming in. Rats. Not mice. Rats. Literally, and leaving feces everywhere," Wilson said.
Wilson said she has lived in the apartment building at 1256 South Independence Boulevard for 17 years. Her living situation took a turn in March, when, she said, the landlord failed a Section 8 inspection.
Wilson said the landlord told her it would cost too much to fix everything, and with Section 8 canceling payments because of the conditions, she was sent a termination letter.
"I feel as though she's been trying to intimidate me. I feel like she's trying to… like I'm nothing. I'm nothing," Wilson said.
Records show there was a city inspection on Wednesday with seven violations. The tax bill for the building names Gal Properties 1 LLC with a mailing address located in Los Angeles.
"So, they own property here in Illinois, but yet, they're not here to check on their property. And, it's more so just profit over people," said State Sen. Lakesia Collins.
Disputes between landlords and tenants are often a lose-lose situation for residents.
Alderwoman Monique Scott, who represents the 24th Ward, said when her office makes a call to the Department of Buildings, inspectors can come out and issue a citation. In some cases, residents may have to vacate their home in as little as 24 hours, or, say nothing and live in deplorable conditions.
"We need more people who are invested into our community, not just somebody taking a dollar," Scott said.


Post source: Abc7chicago