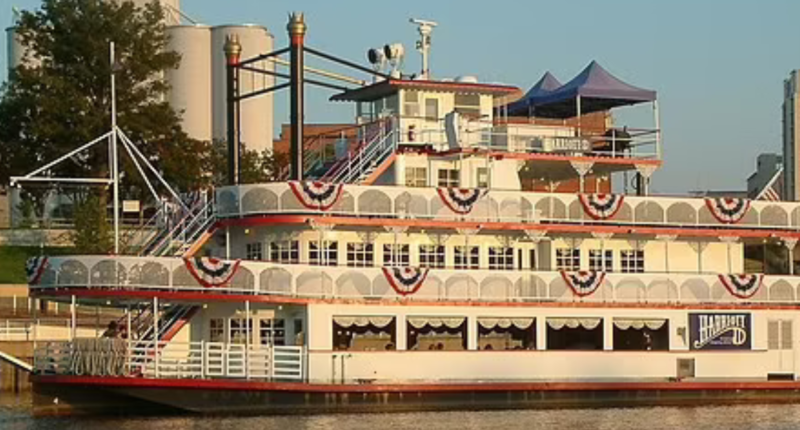 The deckhand in the center of the viral riverboat brawl that took place at Riverfront Park in Montgomery, Alabama nearly two months ago has broken his silence on the unfortunate incident.
Damien Pickett shared his account of the unexpected event with Good Morning America on Monday, explaining he "didn't expect this to happen at work."
Damien Pickett Shares His Story About The Viral Boat Brawl
The dock fight heard round the world began when Pickett asked a group of white men to move their pontoon boat so the Harriott II riverboat could dock. But then the fight broke out.
"It was just a lot of people that were in the way of us docking and the boats just wouldn't move. We could've docked but we would end up hitting a couple of boats and be responsible for," he told Robin Roberts of GMA.
"Everybody [on the riverboat] was yelling, 'Could y'all move y'all boat?' By the captain's orders, we got off and moved the boat. Four steps to the right, that's it. Words were exchanged and I was like, 'I'm just doing my job. After we dock, we don't mind y'all staying there, but not at this time while we're trying to dock.'"
Pickett recalled that the men used "some nasty cuss words" and said that there was alcohol involved as the men had "beers in their hands" on the dock.
Pickett's main concern was getting the boat docked and the people off the boat safely. He also had the man's boat on his mind thinking that if the riverboat hits his boat, "it's gonna sink."
The viral video shows Pickett and a man having a heated conversation when another man ran into the scene to punch Pickett. That's when the brawl broke out and others jumped in.
"This man just put his hands on me. I was, like…it's my job, but I'm still defending myself at the same time," he said. "So when he touched me, I was like, 'It's on.'"
Coworkers Jumped In To Help Defend Damien Pickett
Two of Pickett's coworkers, Roshein "RahRah" Carlton and Aaren Hamilton-Rudolph, then sprang into action to help defend him.
"Me walking up to the guys and asking them, 'Well, why did you all jump on him like that? and he, referring to me, [goes] 'Who the f— you think you are?'" Carlton said. He also said the men used "a lot of racial slurs."
Remember the kid who jumped into the river from the riverboat and swam to the dock to help defend his coworker? That was Hamilton-Rudolph who's just 16-years-old.
"Everybody was just recording. No one helped," Hamilton-Rudolph said, who was only on the job for two weeks. "When they first started hitting on him and no one helped, I couldn't just watch and sit around and just let him get beat on while everybody else was just recording."
Tons of videos of the incident can be seen on TikTok.
Arrests Were Made After The Fight
The brawl was investigated by the Montgomery Police Department.
Four white individuals were charged with misdemeanor assault and are all out on bond and set to appear in court for a hearing this week. Richard Roberts, 48, turned himself over to police and was charged with two counts of third-degree assault.
Three others turned themselves in to police the day after Roberts – Mary Todd, 21, Allen Todd, 23, and Zachary Shipman, 25. They were each charged with one count of third-degree assault but pleaded not guilty.
Another man, Reggie Ray, a Black man seen in the videos hitting someone with a folding chair, was also arrested for disorderly conduct.
The Alabama Deckhand Breaks Silence On Brawl: 'Racial Slurs' And 'Beers In Hand' first appeared on The Blast
This article Alabama Deckhand Breaks Silence On Brawl: 'Racial Slurs' And 'Beers In Hand' was originally published on TheBlast.com
Post source: The blast