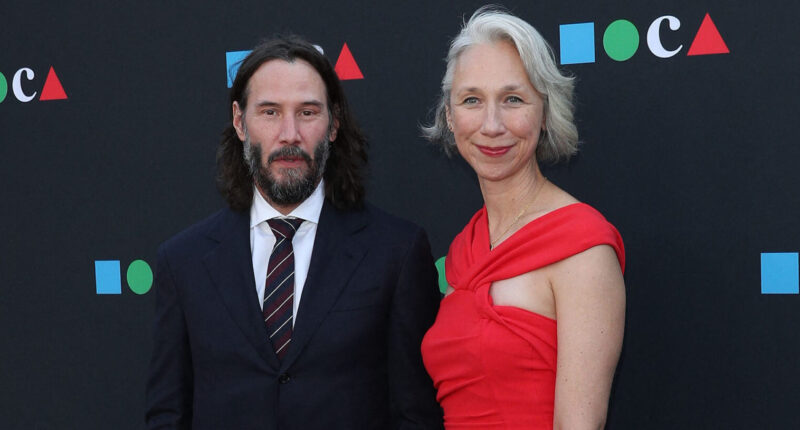 Alexandra Grant opened up on her relationship with actor Keanu Reeves at the Los Angeles Beverly Arts Icon Awards, and it's very interesting.
The author shared that the couple inspires each other creatively, approaching problems as opportunities. She praised Reeves as an inspiration, emphasizing his creativity and work ethic.
The duo made their public debut in 2019 and have collaborated on various projects.
Alexandra Grant Speaks On Her Relationship With Keanu Reeves
Keanu Reeves' girlfriend, author Alexandra Grant, looked stunning while attending the Los Angeles Beverly Arts Icon Awards solo. When asked by People magazine about navigating red carpets alone, the accomplished visual artist offered a thoughtful response. 
Grant said, "The good news about falling in love as an adult is that I had built my own career by the time that my relationship had begun." She added, "I feel very confident in the relationship on the red carpet. I feel confident on it alone."
She described her relationship with the "John Wick" star as "interdependent and independent in the best ways."
Alexandra Grant Says Keanu Reeves 'Is An Inspiration' To Her
When asked about their dynamic within each other's professional spheres, the 50-year-old shared a story with the outlet about feeling creatively stuck. 
Grant said, "In a moment of frustration in my life, I once said, 'Sometimes I feel like a Maserati stuck in traffic,' that I have this big engine, but, for a variety of reasons, that I couldn't ever go."
She continued, "And I know a lot of people feel frustrated in their lives, that they're not able to run their engine."
Grant explained that she and Reeves inspire each other to find new paths and solutions, viewing problems as opportunities to explore alternative routes. She explained, "Seeing the other person's problem-solving is inspiring, like, 'Oh, well, okay, this one, that's a cul-de-sac. How do I try this other thing?' "
She praised Reeves as an inspiration, adding, "He's such an inspiration to me. He's so creative, he's so kind. He works so hard."
Keanu Reeves Girlfriend: 'We Both Care About People'
Grant also emphasized the centrality of storytelling in both her and Reeves' work. She described her art as a private performance, stating, "My work is much more of a private performance, but I have a text that I interpret in the studio into a painting, into an object."
She continued, "He takes the text in private and then turns it into a performance in public. There's a relationship. We're both at the heart of readers and researchers. We both care about people and we care about characters."
Using a metaphor, Grant drew parallels between their creative worlds, insightfully sharing, "Sometimes I feel like, to make a film, as we're seeing now in the strike, that it's a cruise ship. Everyone is dependent on everyone else. You can't go off and— being an artist, maybe at the beginning of my career, I was in a kayak on the sea of creativity. Now maybe it's a small speedboat, but it's still a lot more nimble."
Grant noted how this contrast inspires Reeves, emphasizing that filmmaking requires hundreds of people, while art primarily involves the artist and a supportive community for sharing the work.
"You require one. You require a community to get the work into the world, but not to make it. I think part of the inspiration is the differences of scale."
Alexandra Grant And Keanu Reeves Stun On The Red Carpet
Reeves and Grant made their public debut as a couple in 2019 at the LACMA Art + Film Gala in Los Angeles, hosted by Gucci. They graced the red carpet hand in hand, with Reeves donning an all-black suit and Grant stunning in a midnight blue gown featuring a deep V-neck, complemented by silver flats.
The couple's connection goes beyond romance, as they have been friends and collaborators for years. Their creative partnership began with Reeves' 2011 book Ode to Happiness, illustrated by Grant. This initial collaboration paved the way for another project in 2016, Shadows, also authored by Reeves and illustrated by Grant. In addition to their artistic endeavors, the couple co-founded X Artists' Books, a publishing house established in 2017.
Post source: The blast