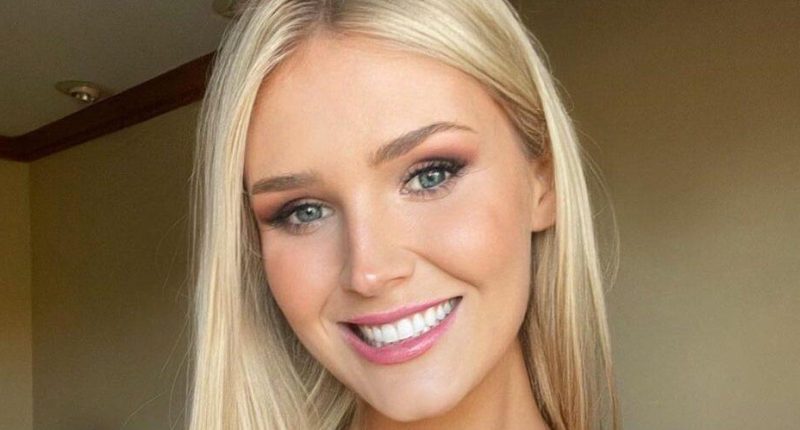 Allie Dunn is heating up social media with her soldering bikini content!
The model, who's named the "California Girl Next Door," has once again wowed her Instagram followers with her latest swimwear post. Dunn's update, which was posted today, saw her rocking a skimpy two-piece while posing poolside.
Sun's Out, Buns Out!
The 24-year-old posed with her back facing the camera. She positioned one leg forward and placed her left arm over her buxom curves. Dunn wore a tiny bikini featuring a leopard print that complimented her flawless complexion and displayed all her curves, leaving viewers wanting more.
From what was visible of her upper garment, it had tiny triangular cups that looked stretched out from her ample assets. Its thin straps were tied up around her neck in a halter-style fashion. Meanwhile, the lower straps were secured around her ribcage — exposing a hint of underboob in every pose.
Soaking Up Some Sunshine
The matching bottoms featured a thong-back and sat high over her hips, highlighting Dunn's perky booty. It featured a narrow piece of fabric that rose between her voluptuous cheeks and rested against the small of her back.
The second slide saw Dunn in a similar stance as she looked down and raised her arms. Her round derrière was a primary focus of the image as it swelled out alluringly beneath her slender waist, accentuating her hourglass shape.
Scroll Down For The Pics!
A swipe to the right showed Dunn tugging on the strings of her bikini bottoms and looking over her shoulder, offering the camera a sultry gaze.
Dunn struck three more poses that surely have gotten a lot of pulses racing.
In the caption, she asked her followers, "What's your spirit animal?"
Getting Thousands Of Likes!
The share earned close to 16,000 likes and upward of 400 comments in less than 10 hours of going live on Instagram. Her eager fans, who flocked to the comments section, left compliments and emojis.
"Wooow! You're perfect. Sexy body," wrote one person.
"It would have to be a peach fly. Amazing," remarked another admirer.
"They say my animal spirit is the dragon but when I see such a wonderful photo of you in that way I think my animal spirit must be that of the horse hahahaha," joked the third user.
"Mine is acwolf. I loved your bikini. It looks amazing in you, pretty," added the fourth commenter.
Looking 'Very HOT!!'
September also brought a double treat from Dunn as she donned a tiny printed bikini and showed off her insane assets.
Posing from indoors, she modeled the super skimpy two-piece with colorful prints on it. In the caption, she wrote: "Remember, you're only as cool as you treat people."
A smitten follower wrote in the comments, "My heart just skipped a beat."
Another noted, "You are absolutely gorgeous," while the third follower told Dunn she looked "Very HOT!!"


Post source: The blast