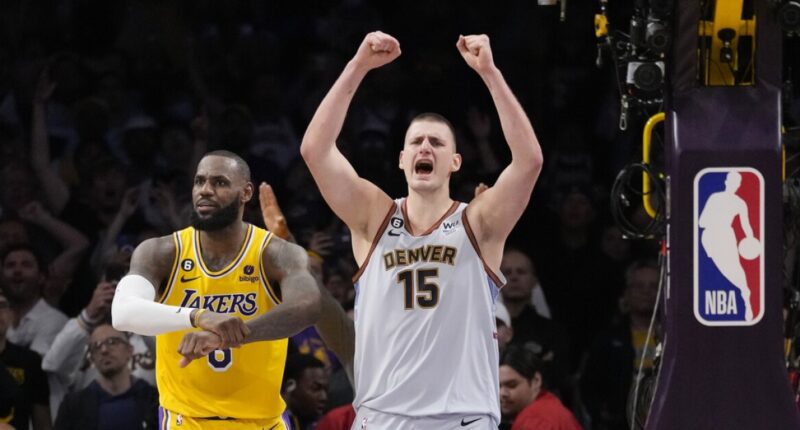 DENVER — Nikola Jokić and the Denver Nuggets have been methodically conquering foe after foe so far this post season. They finished the regular season with the best record in the Western Conference and yet, ESPN's leading NBA sideline reporter said she had never seen Jokić — the NBA's two-time MVP — play before.
"It's funny because I have never seen him play," said Lisa Salters in an interviewduring the Western Conference Finals.
That statement and others from members of the national media drew the ire of local sports reporters and Nuggets fans alike.
"If it's your job to cover the NBA and cover basketball, by God maybe turn on a television and watch the two-time MVP and his basketball team," said Vic Lombardi with Altitude Sports.
"It's absurd that both their number one sideline reporter and their number-one color commentator are disrespecting Nikola Jokić," said Jake Shapiro, digital sports analyst with denversports.com. "And it just goes to show you how little people think about the Nuggets."
"Yeah, I think it's nonsense," said Jahshua Hamilton, assistant basketball coach for Denver's East High School and lifelong Nuggets fan. "They have to know who we are. We've been very good for a while. But we're going to get our respect."
For their part, the Nuggets haven't let any of it bother them this post-season and neither have most fans.
"We're playing with a chip on our shoulder," said Nick Nidey from Pueblo, who has followed the Nuggets since he was a little boy. "And we play as a team more than anyone else, I believe."
Nuggets
Nuggets fans use good luck charms to help team through NBA Finals
7:47 AM, Jun 01, 2023
The Nuggets are a franchise that has always come up just a little bit short.
"You have to understand something about Nuggets history," said Lombardi. "The Denver Nuggets have not been some also ran franchise that's been run into the ground. This has been a really good basketball team for a lot of years. It's been a playoff team. They've had high-scoring teams, they've had defensive teams, but it's never been a championship team."
The Nuggets first shot at glory happened way back in the 1970's when David Thompson took them to the ABA Finals, where they lost 4-2 to Julius 'Dr. J' Irving and the New York Nets.
The Nuggets and Nets then joined the NBA the very next season.
Since then, the Nuggets have been to the Western Conference Finals just four times in 47 years. Once versus the Seattle Supersonics in 1978, and then three times versus the Los Angeles Lakers – in 1985 with Alex English and 'Fat' Lever, in 2009 with Carmelo Anthony and Chauncey Billups and in 2020 in the bubble with Jokić and Jamal Murray.
"The Nuggets have never had a player of Jokić's caliber," said Zach Bye, radio host and one-half of the program Stokley and Zach on 104.3 The Fan. "Carmelo Anthony was a great player. He'll go to the hall-of-fame. He was never first-team All-NBA, let alone an MVP."
"It's part of Nuggets lore, I guess, to get your heart shattered by the likes of the L.A. Lakers," said Lombardi. "That's why it had to be this way. It had to be the Lakers as the last step in the way of their first appearance in the NBA Finals."
"David Thompson is by far the single best player the Nuggets have had," Shapiro said. "He was Jordan before Jordan. Alex English was really good over a long stretch of time, but never amazingly great."
Shapiro recently wrote a blog comparing the 2023 Denver Nuggets to the 1991 Chicago Bulls.
Nuggets
How a contest launched this very rad, 'iconic' 1980s Denver Nuggets skyline logo
9:05 PM, May 31, 2023
"Before Michael Jordan and the Chicago Bulls won their first title, they were talked about and forgotten about the same way the Nuggets are right now," Shapiro said. "They could never quite break through. And you're seeing it when the national people all of the sudden parachute in here and act like they know us."
"They have a goal," Hamilton said. "They don't care about the media; they know what they're going to do."
Hamilton's East High Angels just won the 5A Colorado State Championship in basketball.
"My people were Dikembe Mutombo, Antonio McDyess, Chris Jackson," Hamilton said of the Nuggets teams he grew up watching in the 1990s.
Hamilton says Jokić is better than just one of the best in the league right now.
"I'd put him higher than that," Hamilton said. "He's one of the best ever. He refuses to let his team lose. He'll do whatever it takes. If it's getting the rebound, diving on the floor, he was even guarding LeBron at one point. He said, 'Let me guard him.'"
Lombardi points out – the Nuggets do lack something that the Broncos and Avs have.
"They have the hardware," Lombardi said.
Hosting the show remotely from Brother's BBQ in Greenwood Village, Zach Bye said there's no question this team can win it all.
"They've built it organically," Zach said. "And the product you're seeing is a grass-roots, farm-to-table NBA approach that is truly a one-of-one."
The loyal legion of fans includes Nidey and his 10-year-old son, Chase.
"It's always hopeful," Nidey said. "Every year's a hopeful season."
Chase Nidey has a long list of favorites.
"Probaby Jokić, Porter, Jr., Murray, Brown," the 10-year-old said.
"Call me a homer, call me what you want, but I love the Nuggets and it's my team," Nidey said.
And in a city and state of millions of transplants – the experts we talked to say come aboard, they don't mind, the Nuggets bandwagon is wide open.
"I'm not one to be a gatekeeper for the Denver Nuggets and the fanfare that's going on now," Lombardi said. "Come one, come all."
Nuggets
The bandwagon fan's guide to the Denver Nuggets in the NBA Finals
3:59 PM, May 30, 2023
"If you fell in love with the Broncos because of Peyton and Von, you can fall in love with the Nuggets because of Jokić and Jamal," Shapiro said.
"The bandwagon for the Denver Nuggets should always be open," Zach said. "This is a franchise who has never won anything. To gatekeep the Denver Nuggets would be a fool's errand."
"This is the best team in Nuggets history with the best player," Lombardi said. "Nikola Jokić is the anti-NBA player. He doesn't do social media. He doesn't gloss himself."
"The Nuggets have never been quite as good as they are right now," Shapiro said. "They've never had a player as great as Nikola Jokić."
"It's once in a lifetime," Nidey said.
"In sports, it's about windows," Zach said. "How open is your window? That's why it's so important for the Nuggets to capture this championship while it's attainable."
"I wish my grandmother was still here, my Uncle Danny," Hamilton said. "I know he's loving it, as well."
"We're on the verge of them doing something they've never done before and it's very exciting," Shapiro said.
"You're darn right this is the beginning of something special," Lombardi said.