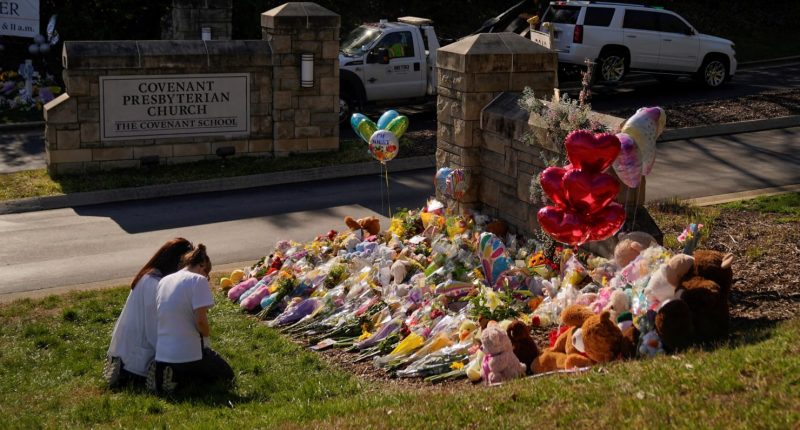 The gunman who killed three adults and three children in a shooting spree at a Nashville school was devastated by the death of a close friend in the months leading up to the attack, according to people who knew the shooter.
Audrey Hale, 28, who was shot dead by police during Monday's tragedy at the Covenant School, was described as having been distraught by the death of Sydney Shere Sims in a car crash in August, according to NBC News.
Maria Colomy, a former instructor of Hale's at the Nossi College of Art & Design, told the news outlet Hale had posted messages of grief following Sims' death on social media.
"A lot of comments about 'you were all that mattered' [and] 'I'll miss you forever,' etc." Colomy said.
"After Sydney's tragic death, Audrey was really heartbroken over it," Hale's former classmate, Samira Hardcastle, told the New York Post.
"I just feel like [Hale] took it differently than some of us did," she said, adding that Hale "was still posting about Sydney almost daily" and possibly had an "infatuation" with Sims.
Hardcastle separately told NBC News that the last time she saw Hale was a month ago at the taping of a show in Nashville, but they only spoke briefly. "She [Hale] seemed like she always did, just kind of quiet," Hardcastle said. "But I don't know if I could go off that two-minute interaction and say how she was feeling."
Sims' twin sister, Taylor, reacted with fury at reports linking her sibling's death and Hale's attack, according to DailyMail.com. In a private Instagram message, Taylor reportedly wrote: "[The truth] is none of us know why [Hale] did that. So by all means please don't attach such a nasty, disgusting tragedy to my sister's name. This is very sick and just goes to show people just talk."
Taylor reportedly went on to write that she and her late sister did "not have any contact with [Hale] for years" and that "we all played middle school basketball together. That's it and that is all!" Taylor added that the "first time in a while" that she'd seen Hale was at her sister's funeral.
The taping where Hardcastle last saw Hale was for the show of their mutual friend and radio personality, Averianna Patton. Patton was the person who received Instagram messages from Hale in the minutes before the attack started.
In the messages, Hale told Patton that he was "planning to die today" and that "something bad is about to happen." Hale also told Patton that she was the first to know about his plan because Patton was "the most beautiful person I've ever seen and known all my life."
Despite their apparent close relationship, Patton—who played basketball with Hale in middle school—said she hadn't actually seen Patton for years before the attack. "I knew [Hale] when we were kids, when we were younger," Patton told CNN's Don Lemon. "I didn't know the adult Audrey. I still addressed her as Audrey." (A source close to the Hale family told The Daily Beast that Hale identified as transgender and started using he/him pronouns "relatively recently.")
When asked about why Patton believed Hale chose to contact her specifically, she suggested it might be because she's "an influencer here in Nashville." Patton added that she's worked in radio and news and that Hale was "most recently at my TV show," but she wasn't sure why Hale reached out. "To give you a direct answer, I'm asking God the same question," Patton said.
Police have yet to establish a motive for the massacre, though Nashville Police Chief John Drake said in an interview Monday that Hale's "resentment" toward the Covenant School may have played a role. School principal Katherine Koonce, 61, was one of those killed in the attack. A Nashville councilman said Koonce died after she "headed straight for the shooter" after hearing the first shots.
The other adult victims were named by authorities as school custodian Mike Hill, 61, and substitute teacher Cynthia Peak, 61. The three 9-year-olds killed were identified as Evelyn Dieckhaus, William Kinney, and Hallie Scruggs.
Post source: TDB